Windrider 40
Formerly '2400 Windrider'
Our preferred pack for backpacking in open, wet and wooded trails.
40L PACK, IDEAL FOR
Backpacking
Wet, Wooded Environments
OUR ORIGINAL BACKPACKING PACK
The Windrider 40 is the pack that super-efficient thru hikers and backpackers graduate down to when their kits are dialed, and the calories and fuel they need along the way are never too hard to find. Ideal for weekend or section hikes where frequent resupply points are available.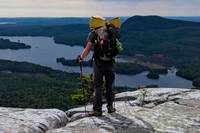 WHY CHOOSE THE WINDRIDER 40?
WHY CHOOSE THE WINDRIDER 40?
ULTRALIGHT ORIGINAL
Our original backpacking pack with external mesh pockets provide ample room for gear without having to open your pack and dig
WATERPROOF MATERIALS
Pair with our Stuff Sacks for a buttoned up, nearly waterproof kit
EXTERNAL POCKETS
Three external mesh pockets -- Makes it easy to see what's in your pockets and allows gear to dry faster
FEATURES
External Pockets:Three external mesh pockets

Zippered Pockets:Hardline with Dyneema® zippered pockets on hip belt with #5 YKK zipper

Internal Sleeve:Internal 8" x 14" mesh sleeve for hydration bladder

Top Closure:Roll-Top closure system with side compression straps for vertical compression

Hip Belt:Hardline with Dyneema® dual-density hip belt with 1/8" closed cell rigid foam, 1/4" closed cell foam and spacer mesh

Back:Integrated 1/4" foam back panel pad

Loops:Grab Loop & Ice Axe Loop

Side Straps:Side compression straps for horizontal compression

Top Compression Straps:Top Y-strap compression -- Designed to secure gear

Shoulder Straps:Hardline with Dyneema® shoulder straps with 3/8" closed cell foam and spacer mesh

Sternum Straps:Adjustable sternum strap with self-tensioning elastic

Buckles/Bungees:Four exterior triglide buckles for optional pack accessory straps

Stays:Removable, contoured aluminum stays

Sealing:Seam tape on all vertical side seams and behind all sewn-on pack features

Pack Accessory Options:Shoulder Pocket, Versa, Stuff Sacks & Pods

Daisy Chains:Daisy chains on shoulder straps

Water Resistant:Yes

Compatible With:Pods, Drawstring or Roll-Top Stuff Sacks, Stuff Sack Pillow
Featured Product Reviews
The Best Backpack You've Come to Expect!
I've always wanted it, but I finally got it this time. By using the hardness of the main body, it becomes easier to get used to and use. It is an item that you want to use for a long time.
Verified Buyer
Hands Down Best Pack I've Ever Owned
Overall the best pack I've ever purchased. Very strong, durable, lightweight material, I'm anticipating years of heavy use won't phase this pack. I found Hyperlite after a cheap lightweight pack I purchased began to fall apart after less than 100 miles. I'd so much rather pay a little more for rugged gear than skimp and be frustrated with cheap junk!
Verified Buyer
2400 is Perfect
The bag is very well made and sits perfectly on my body (5'10" 205). This was my first time buying a bag without trying it first so i was little nervous. Took it over the weekend at a section at AT (25 miles). No issues or complaints.
Verified Buyer
SPECS & DIMENSIONS
MaterialsWhite: DCH50 (Main Body) & DCH150 (Bottom)
Black: DCH150 (Main Body & Bottom)
Internal Volume40L | 2400 cu in.
External Volume9.8L | 600 cu in.
WeightWhite: 1.9 lbs | 29.8 oz | 844 g
Black: 2.0 lbs | 32.5 oz | 921 g
*Average weight based on size medium
Load CapacityUp to 40 lbs
Back Width10.5" | 26.7 cm
Height (Fully Unrolled)30.0" | 72.6 cm
Top Circumference37.5" | 95.3 cm
Bottom Circumference33.5" | 85.1 cm
Made InMexico
Take it for a spin
Grab the bag and explore!
WHY CHOOSE THE WINDRIDER 40?
ULTRALIGHT ORIGINAL
Our original backpacking pack with external mesh pockets provide ample room for gear without having to open your pack and dig
WATERPROOF MATERIALS
Pair with our Stuff Sacks for a buttoned up, nearly waterproof kit
EXTERNAL POCKETS
Three external mesh pockets -- Makes it easy to see what's in your pockets and allows gear to dry faster
Features
External Pockets:Three external mesh pockets

Zippered Pockets:Hardline with Dyneema® zippered pockets on hip belt with #5 YKK zipper

Internal Sleeve:Internal 8" x 14" mesh sleeve for hydration bladder

Top Closure:Roll-Top closure system with side compression straps for vertical compression

Hip Belt:Hardline with Dyneema® dual-density hip belt with 1/8" closed cell rigid foam, 1/4" closed cell foam and spacer mesh

Back:Integrated 1/4" foam back panel pad

Loops:Grab Loop & Ice Axe Loop

Side Straps:Side compression straps for horizontal compression

Top Compression Straps:Top Y-strap compression -- Designed to secure gear

Shoulder Straps:Hardline with Dyneema® shoulder straps with 3/8" closed cell foam and spacer mesh

Sternum Straps:Adjustable sternum strap with self-tensioning elastic

Buckles/Bungees:Four exterior triglide buckles for optional pack accessory straps

Stays:Removable, contoured aluminum stays

Sealing:Seam tape on all vertical side seams and behind all sewn-on pack features

Pack Accessory Options:Shoulder Pocket, Versa, Stuff Sacks & Pods

Daisy Chains:Daisy chains on shoulder straps

Water Resistant:Yes

Compatible With:Pods, Drawstring or Roll-Top Stuff Sacks, Stuff Sack Pillow
Product Walkthrough Video | Windrider
FREE SHIPPING ON ORDERS OVER $200