Versa
Our take on the timeless fanny pack, with a focus on ultralight weight and versatility.
IDEAL FOR
Phones or GPS Devices
Snacks & Canned Beverages
Bear Spray, Medicine, or Maps
TAKING THE FANNY PACK INTO THE 21ST CENTURY
Don't let the term "fanny pack" pigeonhole your understanding of how this supremely versatile accessory can be used: whether you wear it around your waist, crossbody, under your shoulder, or attached to your pack at the hip belt, sternum strap, daisy chains, or on top of the pack secured by the compression Y-straps, the highly functional Versa is a storage option that just won't quit. Keep everything secure and in reach.
Constructed of waterproof, super-durable Dyneema® Composite Fabrics DCH50, the spacious and water-resistant main pouch will fit a multitude of items including water bottles, camera equipment, bear spray, snacks, canned beverages, medicine, or maps. The Versa is designed for unparalleled convenience and flexibility. Along the front face there is a second zipper pocket large enough to store your smartphone and other small tools. Last, but not least, the Versa features a third "stash pocket" along the back for additional reach-in storage and easy access to your hip belt or sternum strap buckle.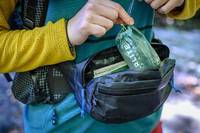 WHY CHOOSE THE VERSA?
WHY CHOOSE THE VERSA?
EASY ACCESS
Clamshell, top-loading main pouch with long zipper pulls holds snacks, phone, wallet, GPS device, compass, camera gear, or beverages. And, a bonus "stash" pocket close to the wearer's body provides quick access to in demand items
ADJUSTABLE SIZING
Waist belt wings tuck into the back pocket when worn on a sternum strap or hip belt. Hip belt buckles can be accessed via the open-top "stash" pocket for easy clipping in and out. Or just wear freely around your waist
SECURE HOLD
Removable 1" waist strap with a lightweight buckle and elastic "tail keeper" for the extra strap
FEATURES
External Pockets:Front Zippered Pocket

Internal Pockets:Internal Mesh Divider

Waist Strap:1" Webbing Strap (adjustable up to 52" circumference)

Seams:Bound for Added Strength

Zipper:YKK #3

Water Resistant:Yes

Compatible With:Most Shoulder Straps, Sternum Straps and Hip Belts

Includes:Inner Key Clip
Featured Product Reviews
Great Little Bag
Love this bag. Mainly got it to supplement gear when hiking but find myself taking it everywhere. Use it on my commute to work to carry things I need with me all day.
Verified Buyer
Not Your Typical Fanny Pack!
I'm not a fan of fanny packs but this little pack has me rethinking that old stance. Perfect size and added bonus to my Southwest 3400. It can pack along for a side hike or use as an everyday option.
Verified Buyer
Perfect
The Versa is perfect: durable, water resistant, not emblazoned with logos, works as advertised with my Southwest pack and the sizing is just right. Another home run for HMG.
Verified Buyer
SPECS & DIMENSIONS
MaterialsDCH50 + Mesh
Internal Volume2.5 L
Weight0.27 lbs | 4.27 oz | 121.1g
Dimensions2.25" x 6" x 9" | 5.7cm x 15.2cm x 22.9cm
Made InMexico
WHY CHOOSE THE VERSA?
EASY ACCESS
Clamshell, top-loading main pouch with long zipper pulls holds snacks, phone, wallet, GPS device, compass, camera gear, or beverages. And, a bonus "stash" pocket close to the wearer's body provides quick access to in demand items
ADJUSTABLE SIZING
Waist belt wings tuck into the back pocket when worn on a sternum strap or hip belt. Hip belt buckles can be accessed via the open-top "stash" pocket for easy clipping in and out. Or just wear freely around your waist
SECURE HOLD
Removable 1" waist strap with a lightweight buckle and elastic "tail keeper" for the extra strap
Features
External Pockets:Front Zippered Pocket

Internal Pockets:Internal Mesh Divider

Waist Strap:1" Webbing Strap (adjustable up to 52" circumference)

Seams:Bound for Added Strength

Zipper:YKK #3

Water Resistant:Yes

Compatible With:Most Shoulder Straps, Sternum Straps and Hip Belts

Includes:Inner Key Clip
FREE SHIPPING ON ORDERS OVER $200