Summit 30
Our preferred pack for peak bagging, summit pushes, and travel.
30L PACK, IDEAL FOR
Trail & Town
Peak Bagging & Day Hikes
OUR MEDIUM-DUTY HIKING PACK
Put an exclamation point on your high elevation routes by bagging the peaks with your Summit 30. Stow it away in your bigger pack, and bring it out for the final push, or use it for fast and light day jobs.
Our preferred pack for day hikes or occasional overnight for the super-ultralighter.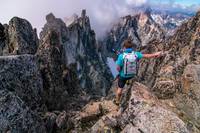 WHY CHOOSE THE SUMMIT 30?
WHY CHOOSE THE SUMMIT 30?
ROLL-TOP CLOSURE
Provides flexibilty for load volumes
SHOCK CORD LACING
For additional gear carrying capacity - carry a rain shell or puffy jacket on the outside of the pack, or other gear you want to easily grab
ADJUSTABLE SHOULDER STRAPS
For comfort with different load weights
FEATURES
External Pockets:

Use the optional

Stuff Pocket

for secure storage.

Top Closure:Roll-Top closure system with side compression straps for vertical compression

Hip Belt:Ultralight 3/4" webbing hip belt

Loops:Grab Loop, Ice Axe Loops

Top Compression Straps:Removable vertical compression straps

Shoulder Straps:Minimalist shoulder straps with spacer mesh

Sternum Straps:Adjustable sternum strap with whistle

Buckles/Bungees:Comes equipped with shock cord for additional gear storage.

Sealing:Seam tape on main body seams

Daisy Chains:

Four external daisy chains for attaching gear or

Stuff Pocket

. Daisy chains on shoulder straps for attaching the

Shoulder Pocket

.

Water Resistant:Yes
Featured Product Reviews
Solid and Well Built
This pack made me realize that I didn't need all of the bells and whistles I had been paying for with other brands. HMG keeps it simple. All you need are porter water bottle holders and a versa and you're good to go
Verified Buyer
Strikingly Simple
I have been using the Summit (white) and the Stuff Pocket for about 6 months now. Great all around pack, that adapts well to most all outdoor single day adventures. So simple, yet really thought out.
Verified Buyer
Day Pack Glory
Holds everything to get me thru a day indoors or out. No fussiness just a simple roll-top that's super light, and after a few months of wear, seems up to the job. Would definitely buy again.
Verified Buyer
SPECS & DIMENSIONS
MaterialsWhite: DCH50
Black: DCH150
Internal Volume30L | 1800 cu in.
WeightWhite (DCH50): 0.8 lbs | 13.1 oz | 371 g
Black (DCH150): 1.0 lbs | 15.8 oz | 448 g
Load CapacityUp to 20lbs
Back Width10.0" | 25.4cm
Height (Fully Unrolled)27.0" | 68.6cm
Top Circumference32.0" | 81.3cm
Bottom Circumference31.0" | 78.7cm
Made InMexico
WHY CHOOSE THE SUMMIT 30?
ROLL-TOP CLOSURE
Provides flexibilty for load volumes
SHOCK CORD LACING
For additional gear carrying capacity - carry a rain shell or puffy jacket on the outside of the pack, or other gear you want to easily grab
ADJUSTABLE SHOULDER STRAPS
For comfort with different load weights
Features
External Pockets:

Use the optional

Stuff Pocket

for secure storage.

Top Closure:Roll-Top closure system with side compression straps for vertical compression

Hip Belt:Ultralight 3/4" webbing hip belt

Loops:Grab Loop, Ice Axe Loops

Top Compression Straps:Removable vertical compression straps

Shoulder Straps:Minimalist shoulder straps with spacer mesh

Sternum Straps:Adjustable sternum strap with whistle

Buckles/Bungees:Comes equipped with shock cord for additional gear storage.

Sealing:Seam tape on main body seams

Daisy Chains:

Four external daisy chains for attaching gear or

Stuff Pocket

. Daisy chains on shoulder straps for attaching the

Shoulder Pocket

.

Water Resistant:Yes
Product Video
FREE SHIPPING ON ORDERS OVER $200