Shoulder Pocket
One more great way to keep the tools you need for a successful day within reach.
IDEAL FOR
Keeping Tools You Need Within Reach
Any Backpack with Daisy Chains on Shoulder Straps
Any Activity or Environment
ESSENTIAL ITEMS WITHIN REACH
The Shoulder Pocket puts your chosen tools for communication with the outside world within arm's reach. Or, throw in a small digital camera and document the outside world you're in. Designed to mate perfectly with the shoulder strap systems found on our packs, it's roomy enough to fit most modern cell phones and some GPS devices. Constructed with Dyneema® Composite Fabrics, it's a rugged and slim accessory that won't be a distraction or hamper your freedom of movement.
Put technology like phones or GPS, or items like sunscreen within reach with this accessory that attaches to the shoulder straps of our packs and many others.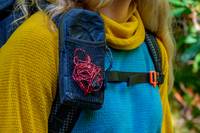 FEATURES
External Pockets:Mesh Front Pocket

Internal Pockets:1/8" Closed Cell Foam

Internal Sleeve:Yes

Buckles/Bungees:Gatekeeper Buckle Attachment

Zipper:Water Resistant YKK Zipper

Water Resistant:Yes

Compatible With:Backpacks with vertical daisy chains on shoulder straps
Featured Product Reviews
Exactly What I Needed
Just big enough to fit my Pixel 6 Pro along with some thin items in the sleeve and still carry my keys or small items in the outside pouch! I've had it about 3 weeks and I love having it secure on my backpack strap.
Verified Buyer
Just What I Needed
I'm happy about the space inside, the clips that allow customized placement, and the exterior option to make for quick draw phone photos. In good weather, having the phone ready on the exterior makes taking photos extremely fast.
Verified Buyer
The Highest Quality
Super impressed with the quality of the shoulder pocket. The details of the design are impeccable. I love the integrated padding while keeping the weight low. Nice!
Verified Buyer
SPECS & DIMENSIONS
MaterialsExterior: DCH50 + Mesh
Interior: DCF11
Weight0.1 lbs | 1.4 oz | 38.6g
Dimensions7" x 3.5" x 1.25" | 17.8cm x 8.9cm x 3.2cm
Made InMexico
Features
External Pockets:Mesh Front Pocket

Internal Pockets:1/8" Closed Cell Foam

Internal Sleeve:Yes

Buckles/Bungees:Gatekeeper Buckle Attachment

Zipper:Water Resistant YKK Zipper

Water Resistant:Yes

Compatible With:Backpacks with vertical daisy chains on shoulder straps
Packup Video | Shoulder Pocket
SHOULDER POCKET IN THE WILD
FREE SHIPPING ON ORDERS OVER $200