Porter 70
Formerly '4400 Porter'
Our preferred pack for multisport adventures.
70L PACK, IDEAL FOR
Any Environment
Backcountry Winter Sports, Bikepacking, Packrafting, Adventure & Travel
OUR SIMPLE, HIGHLY VERSATILE MULTISPORT PACK
Make a big plan, and then go bigger with the Porter 70. For four-season missions where resupply points are less frequent, and bulkier gear or equipment is required, the 70 can carry it all.
We designed the Porter for the expert ultralight backpacker or climber who moves fast, goes far and travels light. Made from 100% waterproof Dyneema® Composite Fabrics (formerly Cuben Fiber), this backpack is highly durable and weather resistant. Use it with our Stuff Sacks for a nearly perfect waterproof kit.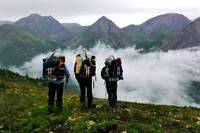 WHY CHOOSE THE PORTER 70?
WHY CHOOSE THE PORTER 70?
BLANK CANVAS
Designed for the ultralight explorer who moves fast, goes far, and travels light with gear needs for a variety of activities
WEATHER RESISTANT
Pair with our Stuff Sacks for a buttoned up, nearly waterproof kit
DAISY CHAINS
Four external, vertical daisy chains for attaching a Porter Stuff Pocket, Porter Water Bottle Holders, or extra gear for trip-specific customization
FEATURES
Internal Pockets:Internal 8" x 8" zippered pocket

Zippered Pockets:Hardline with Dyneema® zippered pockets on hip belt with #5 YKK zipper

Top Closure:Roll-Top closure system with side compression straps for vertical compression

Hip Belt:Hardline with Dyneema® dual-density hip belt with 1/8" closed cell rigid foam, 1/4" closed cell foam and spacer mesh

Back:Integrated plastic sheet with dual-density foam back panel pad

Loops:Grab Loop

Side Straps:Six side compression straps for horizontal compression

Top Compression Straps:Top Y-strap compression designed to secure gear

Shoulder Straps:Hardline with Dyneema® shoulder straps with 3/8" closed cell foam and spacer mesh

Sternum Straps:Adjustable sternum strap with self-tensioning elastic and whistle

Stays:Two removable, contoured aluminum stays

Sealing:Seam tape on all vertical side seams and behind all sewn-on pack features

Pack Accessory Options:Compatible with the Porter Stuff Pocket and Porter Water Bottle Holder

Daisy Chains:Daisy chains on shoulder straps, four external, vertical daisy chains for attaching extra gear for trip-specific customization and allows two ice axes to be carried.

Water Resistant:Yes

Compatible With:Pods, Drawstring or Roll-Top Stuff Sacks, Stuff Sack Pillow
Featured Product Reviews
The Hype is Real
I have been on two SAR missions and one packraft outing so far with this pack and have nothing but good things to say. Rides comfy, fits everything, and repels water. If you are hesitating, like I did, please believe me it is worth it.
Verified Buyer
High Quality Efficiency!
I love this pack! I ordered it with one zip pocket, a hydration sleeve and the "pods". This system is as light and handy as any I've owned. I'm excited to use it!
Verified Buyer
Magnificent Design and Craftsmanship
The 4400 Porter's design and craftsmanship are magnificent. In addition to its fully loaded comfort and functionality, it's a marvel to look at and hold when empty. If there's a design museum for backpacks, this should be in it.
Verified Buyer
SPECS & DIMENSIONS
MaterialsDCH150
Internal Volume70L | 4400 cu in.
Weight2.5 lbs | 40.4 oz | 1145 g
*Average weight based on size medium
Load CapacityUp to 60 lbs
Back Width10.5" | 26.7 cm
Height (Fully Unrolled)38.5" | 97.8 cm
Top Circumference45.0" | 114.3 cm
Bottom Circumference37.5" | 95.3 cm
Made InMexico
WHY CHOOSE THE PORTER 70?
BLANK CANVAS
Designed for the ultralight explorer who moves fast, goes far, and travels light with gear needs for a variety of activities
WEATHER RESISTANT
Pair with our Stuff Sacks for a buttoned up, nearly waterproof kit
DAISY CHAINS
Four external, vertical daisy chains for attaching a Porter Stuff Pocket, Porter Water Bottle Holders, or extra gear for trip-specific customization
Features
Internal Pockets:Internal 8" x 8" zippered pocket

Zippered Pockets:Hardline with Dyneema® zippered pockets on hip belt with #5 YKK zipper

Top Closure:Roll-Top closure system with side compression straps for vertical compression

Hip Belt:Hardline with Dyneema® dual-density hip belt with 1/8" closed cell rigid foam, 1/4" closed cell foam and spacer mesh

Back:Integrated plastic sheet with dual-density foam back panel pad

Loops:Grab Loop

Side Straps:Six side compression straps for horizontal compression

Top Compression Straps:Top Y-strap compression designed to secure gear

Shoulder Straps:Hardline with Dyneema® shoulder straps with 3/8" closed cell foam and spacer mesh

Sternum Straps:Adjustable sternum strap with self-tensioning elastic and whistle

Stays:Two removable, contoured aluminum stays

Sealing:Seam tape on all vertical side seams and behind all sewn-on pack features

Pack Accessory Options:Compatible with the Porter Stuff Pocket and Porter Water Bottle Holder

Daisy Chains:Daisy chains on shoulder straps, four external, vertical daisy chains for attaching extra gear for trip-specific customization and allows two ice axes to be carried.

Water Resistant:Yes

Compatible With:Pods, Drawstring or Roll-Top Stuff Sacks, Stuff Sack Pillow
Product Video
FREE SHIPPING ON ORDERS OVER $200