Ice Pack 55
Formerly '3400 Ice Pack'
Our preferred pack for fast and light alpine expeditions.
55L PACK, IDEAL FOR
Ice & Snow
Alpine Climbing, Ice Climbing & Mountaineering
OUR WINTER ENDEAVORS PACK
The Ice Pack 55 is the pack to grab for multi-day Winter excursions, where volume flexibility for extra food and clothing is a critical ingredient to your success. When the extra volume is not in use, the 55's top can roll down enough to make the overall size of the pack similar to the 40, but that additional space can come in pretty handy when you need it.
For the approach, the climb, and the descent, our Ice Pack is that perfect companion that's never in the way, yet always right there when needed. Whether the day is spent on cliffs or mountains, concentrate on the climb without the distraction of cumbersome equipment.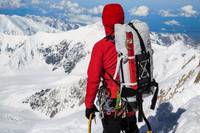 WHY CHOOSE THE ICE PACK 55?
WHY CHOOSE THE ICE PACK 55?
GEAR ATTACHMENTS
Dual Ice Axe Pick Pocket & Figure-8 Crampon Bungee securely hold crampons and ice axes
WATERPROOF MATERIALS
Pair with our Stuff Sacks for a buttoned up, nearly waterproof kit
REMOVABLE HIP BELT
For easy maneuvering while climbing. Gear loops on the hip belt complete the theme of well thought out accessibility to tools
FEATURES
Internal Pockets:Internal 8" x 8" zippered pocket

Top Closure:Roll-Top closure system with side compression straps for vertical compression

Hip Belt:Removable hip belt with gear loops and ice clipper slots, built using Hardline with Dyneema®, dual-density 1/8" closed cell rigid foam, 1/4" closed cell foam and spacer mesh

Back:Integrated 1/4" foam back panel pad

Loops:Grab Loop

Side Straps:Four side compression straps for horizontal compression

Top Compression Straps:Top Y-strap compression -- Designed to secure gear

Shoulder Straps:Hardline with Dyneema® shoulder straps with 3/8" closed cell foam and spacer mesh

Sternum Straps:Adjustable sternum strap with self-tensioning elastic and whistle

Stays:Two removable, contoured aluminum stays

Sealing:Seam tape on all vertical side seams and behind all sewn-on pack features

Pack Accessory Options:Prism Ice Screw Case, Prism Crampon Bag, Stuff Sacks & Pods

Daisy Chains:Daisy chains on shoulder straps, four external, vertical daisy chains for attaching extra gear for trip-specific customization

Water Resistant:Yes

Compatible With:Pods, Drawstring or Roll-Top Stuff Sacks, Prism Crampon Bag and Ice Screw Case, Hyperlite Mountain Gear Removable Hip Belts
Featured Product Reviews
Great Bare Bones Pack
I'm not into all the frills of some of the other packs out there. This pack has exactly what it needs and nothing more. Super light!
Verified Buyer
Best Ice Pack Ever!!!
Received this pack for my birthday, and just in time for my trip to Ouray. The pack worked flawlessly, both in the Ice Park and in the backcountry. The pack fits wonderfully, and was without unanticipated restrictions. My partner was really impressed. Looks like he'll be getting one soon.
Verified Buyer
Favorite "Go To" Alpine Pack
I've been using the 3400 Ice Pack for three Winter Seasons now and it's hands down my favorite Ice/Alpine pack. I was an initial hard-sell on roll-top packs, I like my separate storage, however this pack has completely converted me. It's been with me on multiple continents and has held up far better than many of my other packs, even though it's a "light-weight" pack. Well done Hyperlite....
Verified Buyer
SPECS & DIMENSIONS
MaterialsDCH50 (Main Body) & DCH150 (Bottom)
Internal Volume55L | 3400 cu in.
Weight2.2 lbs | 34.3 oz | 973 g
*Average weight based on size medium
Load CapacityUp to 40 lbs
Back Width10.5" | 26.7 cm
Height (Fully Unrolled)34.0" | 72.6 cm
Top Circumference40.0" | 95.3 cm
Bottom Circumference33.5" | 85.1 cm
Made InMexico
WHY CHOOSE THE ICE PACK 55?
GEAR ATTACHMENTS
Dual Ice Axe Pick Pocket & Figure-8 Crampon Bungee securely hold crampons and ice axes
WATERPROOF MATERIALS
Pair with our Stuff Sacks for a buttoned up, nearly waterproof kit
REMOVABLE HIP BELT
For easy maneuvering while climbing. Gear loops on the hip belt complete the theme of well thought out accessibility to tools
Features
Internal Pockets:Internal 8" x 8" zippered pocket

Top Closure:Roll-Top closure system with side compression straps for vertical compression

Hip Belt:Removable hip belt with gear loops and ice clipper slots, built using Hardline with Dyneema®, dual-density 1/8" closed cell rigid foam, 1/4" closed cell foam and spacer mesh

Back:Integrated 1/4" foam back panel pad

Loops:Grab Loop

Side Straps:Four side compression straps for horizontal compression

Top Compression Straps:Top Y-strap compression -- Designed to secure gear

Shoulder Straps:Hardline with Dyneema® shoulder straps with 3/8" closed cell foam and spacer mesh

Sternum Straps:Adjustable sternum strap with self-tensioning elastic and whistle

Stays:Two removable, contoured aluminum stays

Sealing:Seam tape on all vertical side seams and behind all sewn-on pack features

Pack Accessory Options:Prism Ice Screw Case, Prism Crampon Bag, Stuff Sacks & Pods

Daisy Chains:Daisy chains on shoulder straps, four external, vertical daisy chains for attaching extra gear for trip-specific customization

Water Resistant:Yes

Compatible With:Pods, Drawstring or Roll-Top Stuff Sacks, Prism Crampon Bag and Ice Screw Case, Hyperlite Mountain Gear Removable Hip Belts
Product Video
FREE SHIPPING ON ORDERS OVER $200