Headwall 55
Our ultralight backcountry ski touring pack with all the safety, none of the constraints.
55L PACK, IDEAL FOR
Snow
Backcountry Skiing & Snowboarding
UPWARD MOBILITY. UNLIMITED DOWNTIME.
Take it to and from the top with the Headwall 55! The "ideal day" is a moving target in the backcountry, based on the conditions in play. Flow with whatever the mountain is throwing at you with the ultralight, durable, and weather resistant properties of Dyneema® Composite Fabrics, all sewn up in a proven pack design that features everything you need without ever being in the way. Securely store your safety essentials in the easy-to-use exterior pocket. Reinforced side panels allow you to carry skis and snowboards without worry about abrasion and wear. And a customizable hip belt allows you to tailor your setup for the demands and joy ahead. Get down, Powder People!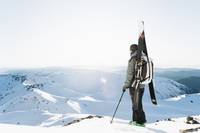 WHY CHOOSE THE HEADWALL 55?
WHY CHOOSE THE HEADWALL 55?
ULTRALIGHT MATERIALS, HEAVYWEIGHT CAPABILITIES
Dyneema Composite Fabrics and a decade of design experience join forces to create a new, super light, incredibly rugged option for backcountry purists
EXTERNAL DUAL CLOSURE AVALANCHE POCKET
The 21" x 11" pocket with an internal organizational sleeve locks shut with strong Hook and Loop closure and is further secured by an over-the-top Y-strap
DESIGNED WITH INPUT FROM CODY TOWNSEND
When Cody reached out with suggestions, we listened and got to work. Because, Cody Townsend
FEATURES
External Pockets:21" x 11" Avalanche pocket, featuring DCH150 internal sleeve for shovel handle and probe

Internal Pockets:Internal 8" x 8" zippered pocket

Zippered Pockets:Hardline with Dyneema zippered pockets on removable hip belt with #5 YKK zippers

Top Closure:Roll-Top closure system with removable side compression straps for vertical compression

Hip Belt:Hardline with Dyneema® dual-density hip belt with 1/8" closed cell rigid foam, 1/4" closed cell foam and spacer mesh

Back:Integrated 1/4" foam back panel pad

Loops:Grab Loop & Dual Ice Axe Loop

Side Straps:Six dual-adjustable side compression straps for attaching skis or splitboard in A-frame carry

Top Compression Straps:Top Y-strap compression -- Designed to secure gear

Shoulder Straps:Hardline with Dyneema shoulder straps with 3/8" closed cell foam and spacer mesh

Sternum Straps:Adjustable sternum strap with self-tensioning elastic and whistle

Stays:Two removable, contoured aluminum stays

Sealing:Seam tape on all vertical side seams and behind all sewn-on pack features

Daisy Chains:Daisy chains on shoulder straps, sides of bag, and front center of bag

Compatible With:All Hyperlite Pods and Stuff Sacks and Hyperlite Mountain Gear Removable Hip Belts
SPECS & DIMENSIONS
MaterialsFully Woven Dyneema (High-Abrasion Points and Bottom of Bag), DCH150 Main Body, Dyneema Stretch Mesh Pocket
Internal Volume55L | 3400 cu in.
External Volume7L | 433 cu in.
Weight2.60 lbs | 41.6 oz | 1180g
Load CapacityUp to 40 lbs
Back Width10.5" | 26.7cm
Height34.0" | 86.4cm
Top Circumference40.0" | 114.3cm
Bottom Circumference33.5" | 95.3cm
Made InMexico
WHY CHOOSE THE HEADWALL 55?
ULTRALIGHT MATERIALS, HEAVYWEIGHT CAPABILITIES
Dyneema Composite Fabrics and a decade of design experience join forces to create a new, super light, incredibly rugged option for backcountry purists
EXTERNAL DUAL CLOSURE AVALANCHE POCKET
The 21" x 11" pocket with an internal organizational sleeve locks shut with strong Hook and Loop closure and is further secured by an over-the-top Y-strap
DESIGNED WITH INPUT FROM CODY TOWNSEND
When Cody reached out with suggestions, we listened and got to work. Because, Cody Townsend
Features
External Pockets:21" x 11" Avalanche pocket, featuring DCH150 internal sleeve for shovel handle and probe

Internal Pockets:Internal 8" x 8" zippered pocket

Zippered Pockets:Hardline with Dyneema zippered pockets on removable hip belt with #5 YKK zippers

Top Closure:Roll-Top closure system with removable side compression straps for vertical compression

Hip Belt:Hardline with Dyneema® dual-density hip belt with 1/8" closed cell rigid foam, 1/4" closed cell foam and spacer mesh

Back:Integrated 1/4" foam back panel pad

Loops:Grab Loop & Dual Ice Axe Loop

Side Straps:Six dual-adjustable side compression straps for attaching skis or splitboard in A-frame carry

Top Compression Straps:Top Y-strap compression -- Designed to secure gear

Shoulder Straps:Hardline with Dyneema shoulder straps with 3/8" closed cell foam and spacer mesh

Sternum Straps:Adjustable sternum strap with self-tensioning elastic and whistle

Stays:Two removable, contoured aluminum stays

Sealing:Seam tape on all vertical side seams and behind all sewn-on pack features

Daisy Chains:Daisy chains on shoulder straps, sides of bag, and front center of bag

Compatible With:All Hyperlite Pods and Stuff Sacks and Hyperlite Mountain Gear Removable Hip Belts
Packup Video | Headwall 55
FREE SHIPPING ON ORDERS OVER $200