Dyneema® 2400 Ice Pack
$500.00
Our preferred pack for fast and light alpine expeditions.
OUR WINTER ENDEAVORS PACK
The Dyneema® 2400 Ice Pack keeps abrasive environments at bay with the strongest fully woven fabric we offer, so your gear is protected on those "no-margin-for-error" missions.
Constructed with the strongest fully-woven fabric we offer, this pack offers unparalleled abrasion resistance and added protection for the critical gear that's so necessary for progress in the world's toughest environments. For the super ambitious out and back day strikes that elevate climbs to legend-status, this pack is hard to beat.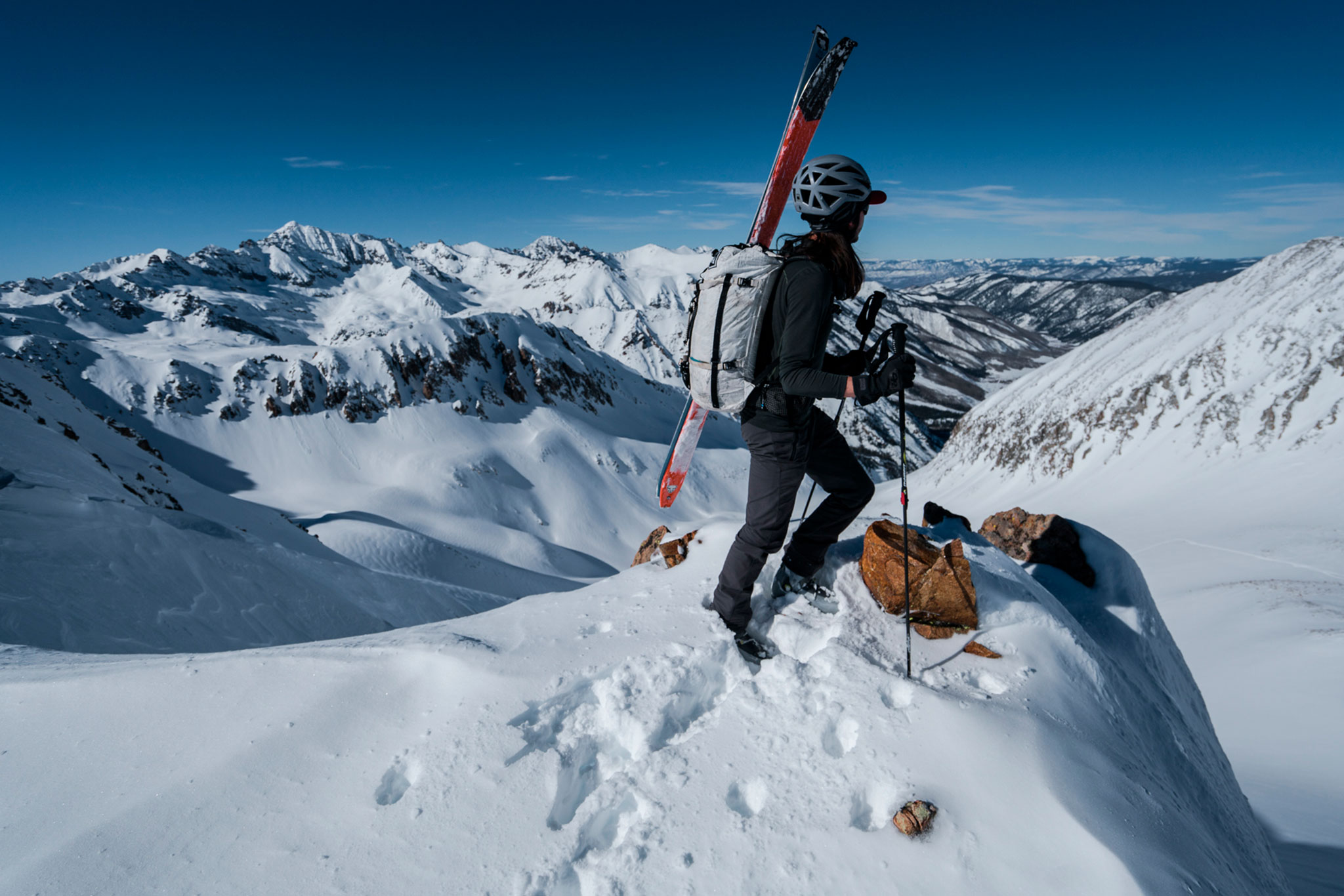 IDEAL USES
DURATION

TERRAIN

ACTIVITY

SWEET SPOT
WHY CHOOSE THE DYNEEMA 2400 ICE PACK?
WHY CHOOSE THE DYNEEMA 2400 ICE PACK?
GEAR ATTACHMENTS
External fitments securely hold crampons and ice axes, and gear loops on the hip belt complete the theme of well thought out accessibility to tools
WATERPROOF MATERIALS
Pair with our Stuff Sacks for a buttoned up, nearly waterproof kit
PACK ACCESSORY OPTIONS
External crampon and ice axe attachment system
FEATURES
FEATURES
Internal Pockets:Internal zippered pocket

Top Closure:Roll-Top closure system with side compression straps for vertical compression

Hip Belt:Hardline with Dyneema® dual-density hip belt with 1/8" closed cell rigid foam, 1/4" closed cell foam and spacer mesh

Back:Integrated 1/4" foam back panel pad

Side Straps:Four side compression straps for horizontal compression

Top Compression Straps:Top Y-strap compression -- Designed to secure gear

Shoulder Straps:Hardline with Dyneema® shoulder straps with 3/8" closed cell foam and spacer mesh

Sternum Straps:Adjustable sternum strap with self-tensioning elastic

Stays:Removable, contoured aluminum stays

Sealing:Proprietary seam sealing on all side seams and behind all sewn-on pack features

Pack Accessory Options:Shoulder Pocket, Versa, REpack, Stuff Sacks & Pods

Daisy Chains:Four external daisy chains

Water Resistant:Yes
IDEAL USES
SWEET SPOT

Bozeman, Montana
SPECS & DIMENSIONS
MaterialsDCHW
Internal Volume40L
External Volume9.8L
Weight2.13lbs
Load CapacityUp to 40lbs
Back Width10.5" | 26.7cm
Height (Fully Unrolled)30" | 72.6cm
Top Circumference37.5" | 95.3cm
Bottom Circumference33.5" | 85.1cm
Made InMAINE, USA
WHY CHOOSE THE DYNEEMA 2400 ICE PACK?
GEAR ATTACHMENTS
External fitments securely hold crampons and ice axes, and gear loops on the hip belt complete the theme of well thought out accessibility to tools
WATERPROOF MATERIALS
Pair with our Stuff Sacks for a buttoned up, nearly waterproof kit
PACK ACCESSORY OPTIONS
External crampon and ice axe attachment system
FEATURES
Internal Pockets:Internal zippered pocket

Top Closure:Roll-Top closure system with side compression straps for vertical compression

Hip Belt:Hardline with Dyneema® dual-density hip belt with 1/8" closed cell rigid foam, 1/4" closed cell foam and spacer mesh

Back:Integrated 1/4" foam back panel pad

Side Straps:Four side compression straps for horizontal compression

Top Compression Straps:Top Y-strap compression -- Designed to secure gear

Shoulder Straps:Hardline with Dyneema® shoulder straps with 3/8" closed cell foam and spacer mesh

Sternum Straps:Adjustable sternum strap with self-tensioning elastic

Stays:Removable, contoured aluminum stays

Sealing:Proprietary seam sealing on all side seams and behind all sewn-on pack features

Pack Accessory Options:Shoulder Pocket, Versa, REpack, Stuff Sacks & Pods

Daisy Chains:Four external daisy chains

Water Resistant:Yes
Backcountry Adventures, Ice Climbing
/
December 16, 2016
Mountaineering
/
June 23, 2015
The Shakedown, Gear
/
February 19, 2019