Daybreak 17
Our preferred pack for day hiking and daily use.
17L PACK, IDEAL FOR
Trail & Town
Day Hikes & Everyday Use
OUR SUNUP TO SUNDOWN PACK
Part of the fun of getting out in the thick of things is carefully assembling just the right amount of equipment and gear you'll need to accomplish your goals. For those less-than-24-hour enterprises, the Daybreak 17 is the out and back pack with just the features you'll need to bring it all together. Hydration, snacks and lunch, additional clothing for changes in temps, trekking poles, a headlamp – you know what you need for the best days out, and the Daybreak 17 will take it all in stride.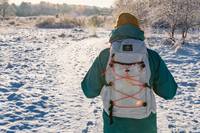 WHY CHOOSE THE DAYBREAK 17?
WHY CHOOSE THE DAYBREAK 17?
LARGE EXTERNAL FRONT POCKET & SHOCK CORD SYSTEM
For quick access and additional storage capacity
TWO ANGLED SIDE WATER BOTTLE POCKETS
Easy to reach while wearing the pack
CLAMSHELL DESIGN & LONG WATER RESISTANT YKK ZIPPER
Allows easy access to contents from top to bottom
FEATURES
External Pockets:Large external center pocket, great for hydration/snacks/rain jacket. Two angled side water bottle pockets that are easy to reach while wearing the pack. Front shock cord system allows you to lash gear or compress the pack

Internal Pockets:Internal 7" x 5" zippered pocket designed to hold phones/keys/money/etc.

Internal Sleeve:Internal sleeve fits up to a 13" laptop

Top Closure:Clamshell design with water resistant YKK zipper allows for wide pack access

Hip Belt:Lightly padded 1.5" hip belt with peekaboo storage pocket to stash hip belt when it's not in use

Back:Integrated 1/4" padded back panel

Loops:Ice Axe Loop & Grab Loop

Shoulder Straps:Hardline with Dyneema® shoulder straps with 3/8" foam and spacer mesh

Sternum Straps:Adjustable sternum strap with whistle

Buckles/Bungees:Front shock cord system allows you to lash gear or compress the pack. Removable gear attachment loops

Pack Accessory Options:Shoulder Pocket, Versa, REpack, Stuff Sacks & Pods

Daisy Chains:Daisy chains on shoulder straps

Water Resistant:Yes

Compatible With:Shoulder Pocket, Bottle Pocket
Featured Product Reviews
Another Amazing Product from HMG
After having such tremendous success with my 3400 Southwest pack, the Daybreak Pack is the third major HMG product I elected to put into my ultralight backcountry exploration quiver and I could not be happier with the decision. No other daypack shares the total package: comfort, durability AND ultralight.
Verified Buyer
Favorite Pack Evah
Carries beautifully. I've loaded it with three liters of water, stove and pot, lunch, snacks, and a couple of layers, and it doesn't even feel like wearing a pack. Extremely comfortable! Worth every penny, awesome.
Verified Buyer
Great Day Pack
I've used the pack now on several treks. I can easily say it's the best pack and lightest I've ever had. I am very impressed at the smart design and quality.
Verified Buyer
SPECS & DIMENSIONS
MaterialsDCH150
Internal Volume17L | 1038 cu in.
External Volume6L | 366 cu in.
Total Volume23L | 1403 cu in.
Weight1.3 lbs | 21.0 oz | 597 g
Load CapacityUp to 25lbs
SizeOne Size / Medium
Bottom Width11.0" | 27.9cm
Height21.0" | 53.3cm
Depth6.5" | 16.5cm
Made InMexico
WHY CHOOSE THE DAYBREAK 17?
LARGE EXTERNAL FRONT POCKET & SHOCK CORD SYSTEM
For quick access and additional storage capacity
TWO ANGLED SIDE WATER BOTTLE POCKETS
Easy to reach while wearing the pack
CLAMSHELL DESIGN & LONG WATER RESISTANT YKK ZIPPER
Allows easy access to contents from top to bottom
Features
External Pockets:Large external center pocket, great for hydration/snacks/rain jacket. Two angled side water bottle pockets that are easy to reach while wearing the pack. Front shock cord system allows you to lash gear or compress the pack

Internal Pockets:Internal 7" x 5" zippered pocket designed to hold phones/keys/money/etc.

Internal Sleeve:Internal sleeve fits up to a 13" laptop

Top Closure:Clamshell design with water resistant YKK zipper allows for wide pack access

Hip Belt:Lightly padded 1.5" hip belt with peekaboo storage pocket to stash hip belt when it's not in use

Back:Integrated 1/4" padded back panel

Loops:Ice Axe Loop & Grab Loop

Shoulder Straps:Hardline with Dyneema® shoulder straps with 3/8" foam and spacer mesh

Sternum Straps:Adjustable sternum strap with whistle

Buckles/Bungees:Front shock cord system allows you to lash gear or compress the pack. Removable gear attachment loops

Pack Accessory Options:Shoulder Pocket, Versa, REpack, Stuff Sacks & Pods

Daisy Chains:Daisy chains on shoulder straps

Water Resistant:Yes

Compatible With:Shoulder Pocket, Bottle Pocket
Product Video
FREE SHIPPING ON ORDERS OVER $200