Our alpinist, ice climbing, and winter pursuits backpack.

The Prism beckons ice climbers, mountaineers, alpinists, and backcountry skiers to think big and go deep. Designed to meet at the intersection of speed, weight, security, and comfort, this top-loading pack features an extendable drawstring closure and an adjustable, removable low-profile lid. Charge headlong into the spectrum of winter's white light with the pack built for alpine adventure.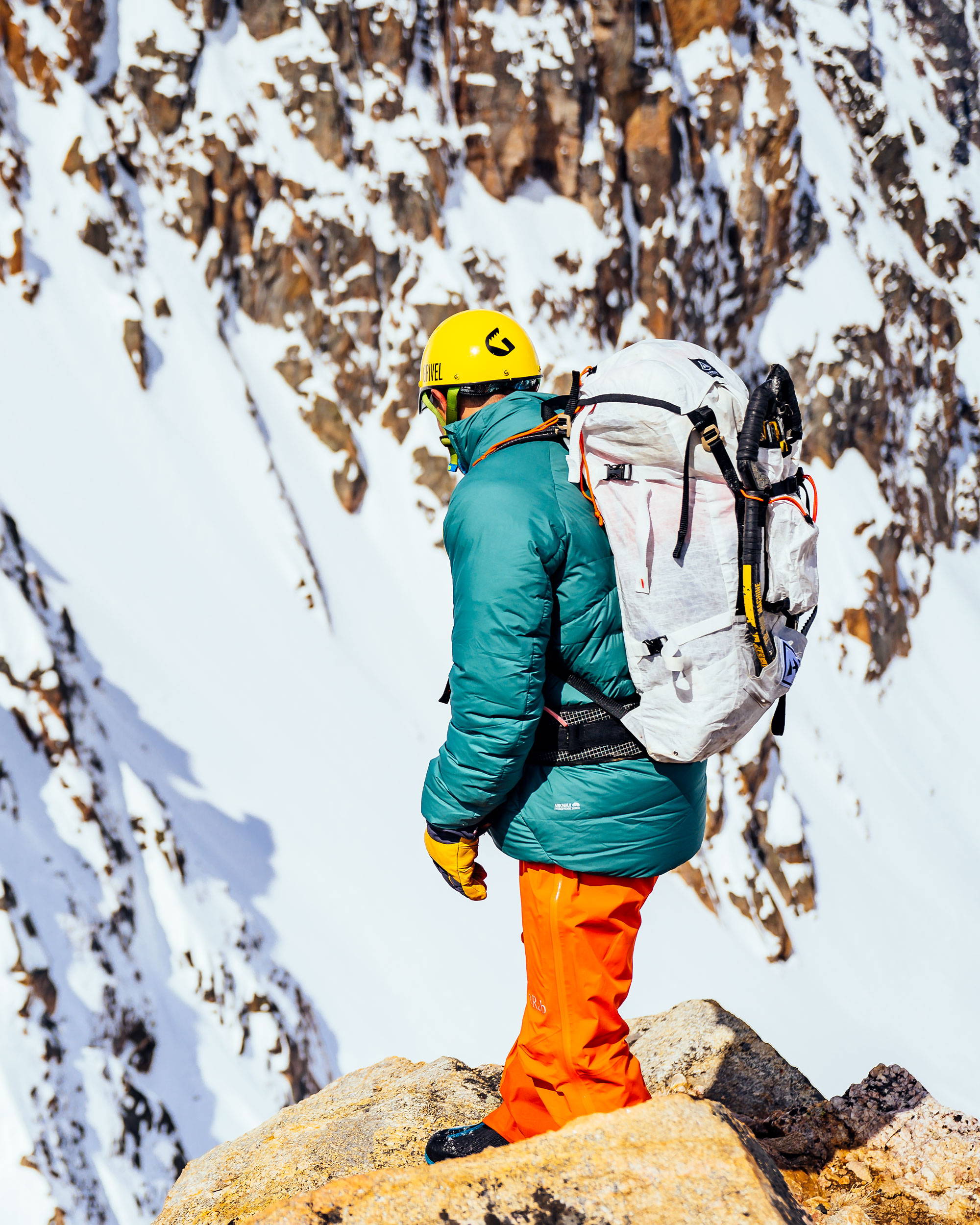 Easy to open and close with gloves on for loading or unloading gear.
Sized to accommodate items you need quick access to throughout the day.
Compression straps secure crucial equipment while keeping the pack close to the body for free and unrestricted movement.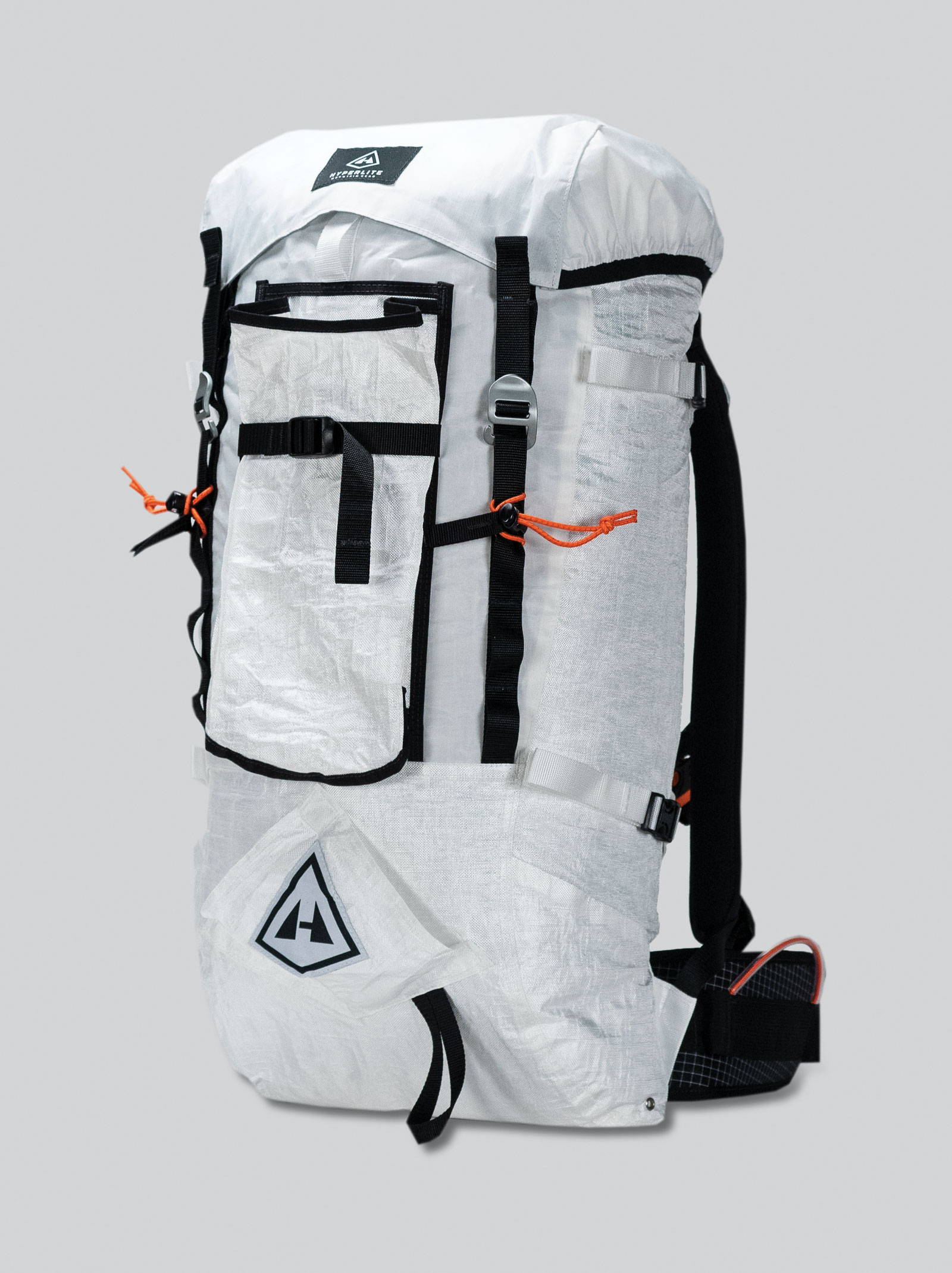 Diamond pocket locks axe heads in place without additional buckles. Low profile side sleeve pockets with drainage holes hold mountaineering wands/pickets.
Integrated 1/4" foam back panel pad and plastic stiffener provide shoulder and spine support for a comfortable and secure carry
Drawstring closure system with extendable collar and cinch cord and floating lid to allow for pack expansion.
Axe loop, reflective bungees with quick-release pull tabs to secure axe handles, and external crampon pouch with easy-cinch closure keep crampons secure and within reach during the approach.
The Prism is our preferred pack for fast and light alpine expeditions. It's best suited for icy and snowy environments.
Icy and Snowy Environments

Alpine Climbing

Backcountry Skiing/Snowboarding

Cold Climates

Ice & Glaciers

Snow

I'm continuously in search of the perfect pack. One that carries a load comfortably, can be converted into a Summit pack, is indestructible and weather proof, and has the right features. Over the last 2-months I've climbed extensively with the Prism pack in the Tetons and loved it. I've loaded it for an overnighter with my daughter then stripped it down to do Mt. Moran car to car. In every case it rides awesome. I'm converted.
Brad P.

I just returned from my first trip with this pack. I ski toured and ducked out of bounds at Big Sky, Jackson Hole, Teton Pass and Grand Targhee. The Prism has plenty of room for anything I need for a few days of hut trips. When I was skiing in-bounds with the pack and only needed the basics, I tightened the compression straps and lid down. The pacRead more about review stating Versatile, light packk gets very small and stays in place better than most packs out there. While boot packing, the A-Frame carry locks your skis in very tightly. While bootpacking, I moved my water bottle from the side pocket to the crampon pocket. Both were very convenient and worked well. I am very impressed with the versatility and structure of this pack. I have a couple hut trips left this year, and I'm excited to continue using this pack.
Corey W.

I've only used the prism for ice climbing, but it will certainly excel during rock season as well. It not only meets, but exceeds the standards for a fantastic winter and summer climbing pack. It carries will both with and without a harness, and has the perfect volume. It's much more comfortable to climb with than any other 40 liter pack I've ever used. I've also used it for winter (fat) bikepacking and biking to ice climbing, and it's been incredibly comfortable. I hate biking with a pack on, but the prism hasn't caused any hot spots or discomfort while on the bike.
Elijah S.

I bought this back to use in cross-country skiing. I needed a light, small pack to hold essential winter gear including spare clothing, trail food, water, gloves, first aid kit, etc. The pack holds all the gear and fits comfortably on my body and does not interfere with skiing. It may hold crampons but will never hold ice axes or ropes. Given the wide variability in winter weather that includes rain, ice, and sleet, the waterproof material is a plus; I never want to fuss in the cold with a rain cover for a pack. I think this is a great winter pack.
Bruce R.
Suggested Use: 1-4 days in the backcountry, icy and snowy environments, alpine climbing and backcountry skiing/snowboarding. This pack is best used with a pack system including Pods, Shoulder Pocket, and Versa.
Suggested Use: Keep your pointy bits at bay by fully enclosing them in this easy-to-grab, easy-to-pack item. The offset, zippered clam-shell opening makes for effortless storage and removal, and drainage holes help manage oxidation while equipment thaws.
Suggested Use: Keeps precious metals organized and safely enclosed in one place. Designed to rest perfectly at the bottom of a climbing pack and includes ten internal screw sleeves (with space in-between for more).
Suggested Use: Suggested Use: Unparalleled efficiency and organization for critical gear and the protection that gear needs for optimal performance in the field.