Prism Ice Screw Case
A tough and elegant accessory that protects your ice screws inside or outside of your Prism Pack.
IDEAL FOR
Easy Access to Essential Gear
Protecting & Organizing Ice Screws & Other Gear
Ice & Alpine Climbing
PROTECT YOUR GEAR FROM ITSELF
Like a vault for life-saving protection, the Prism Ice Screw Case keeps your precious metals organized and safely enclosed in one place. Ten internal screw sleeves (with space in-between for more) keep threads and teeth sharp, separated, and free from rattling around. Large carry handles allow easy access with gloves, an external zippered pocket offers more space for screw-related tools, and drainage holes help keep the contents drier. Designed to rest perfectly at the bottom of a climbing pack, this space-saving accessory is far more than a luxury item.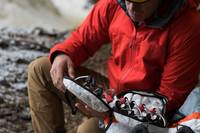 WHY CHOOSE THE PRISM ICE SCREW CASE?
WHY CHOOSE THE PRISM ICE SCREW CASE?
WATER PROTECTION
Drainage holes let moisture out to prevent oxidation
EASY ACCESS
Clamshell design with two-way zipper opens easily and lays flat for optimal visibility and loading/unloading of your winter rack. Hang loop provides a clip-in point for easy access in the midst of a long route
ENDLESS STORAGE
Screw sleeves hold 10 ice screws in a range of sizes, with extra internal space for other gear like carabiners and slings. External zippered pocket offers secure storage for other items you want to keep close at hand
FEATURES
External Pockets:One external zippered pocket

Loops:Hang Loop

Construction:Dyneema® Composite Fabric with 1/8" Closed-Cell Rigid Foam

Zipper:YKK #5 Zipper

Water Resistant:Yes

Drainage:Yes

Compatible With:Prism Pack, Prism Crampon Bag, Other Climbing Packs
SPECS & DIMENSIONS
MaterialsDCH150
Weight0.34 lbs | 5.4 oz | 153.1g
Dimensions12" x 6" x 2.5" | 30.1cm x 15.2cm x 6.4cm
Made InMexico
WHY CHOOSE THE PRISM ICE SCREW CASE?
WATER PROTECTION
Drainage holes let moisture out to prevent oxidation
EASY ACCESS
Clamshell design with two-way zipper opens easily and lays flat for optimal visibility and loading/unloading of your winter rack. Hang loop provides a clip-in point for easy access in the midst of a long route
ENDLESS STORAGE
Screw sleeves hold 10 ice screws in a range of sizes, with extra internal space for other gear like carabiners and slings. External zippered pocket offers secure storage for other items you want to keep close at hand
Features
External Pockets:One external zippered pocket

Loops:Hang Loop

Construction:Dyneema® Composite Fabric with 1/8" Closed-Cell Rigid Foam

Zipper:YKK #5 Zipper

Water Resistant:Yes

Drainage:Yes

Compatible With:Prism Pack, Prism Crampon Bag, Other Climbing Packs
Product Video
FREE SHIPPING ON ORDERS OVER $200