Prism Crampon Bag
Keep the aggressive edges of your crampons separated from crucial cold weather gear and clothing.
IDEAL FOR
Easily Storing & Retrieving Crampons
Storing Sharps or Other Hardware & Tools
Ice & Alpine Climbing
PROTECT YOUR GEAR FROM ITSELF
The Prism Crampon Bag keeps your pointy bits at bay by fully enclosing them in the strength and durability of Dyneema® Composite Fabrics DCH150. Padding on both sides of the Crampon Bag increases the barrier between equipment and pack contents while giving structure to this easy-to-grab, easy-to-pack item. The offset, zippered clam-shell opening makes for effortless storage and removal, and drainage holes help manage oxidation while equipment thaws. It's one more piece of the puzzle that lets you keep your focus on your objective.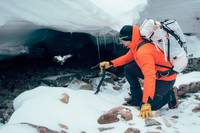 WHY CHOOSE THE PRISM CRAMPON BAG?
WHY CHOOSE THE PRISM CRAMPON BAG?
ADDED PROTECTION
Lined with rigid foam on both front and back to prevent puncture damage to other items. Also features drainage holes for letting moisture out to prevent oxidation
OPEN WITH EASE
Long zipper pull makes it easy to open with gloves on
ENDLESS STORAGE
Offset zipper opening allows you to store and retrieve crampons easily while keeping them secure when not in use. Internal zippered pocket holds sharps or other hardware and tools like your wrench and spare front points
FEATURES
Internal Pockets:One internal zippered pocket

Construction:Dyneema® Composite Fabric with 1/8" Closed-Cell Rigid Foam

Zipper:YKK #5

Water Resistant:Yes

Drainage:Yes

Compatible With:Prism Pack, Prism Ice Screw Case, Other Climbing Packs
Featured Product Reviews
Spot On Like All Their Gear!
It's a crampon bag. A really great crampon bag! At first I felt it was a bit on the narrow side, but have found my crampons fit like a glove and don't move around with potential for punctures. The drain holes are perfectly placed and a nice touch.
Verified Buyer
Great Bag, Better Customer Service
This bag is great! Absolutely perfect. Unfortunately, the first time I ordered it, it was stolen. Hyperlite sent out a replacement soon after. Wonderful customer service.
Verified Buyer
Not Just for Crampons!
Really versatile for many things that might need some added protection. Really well made and designed product and actually a great value when you compare to other crampon cases that aren't worth a dime yet cost considerably more than their construction value.
Verified Buyer
SPECS & DIMENSIONS
MaterialsDCH150
Weight0.25 lbs | 4.0 oz | 113.7g
Dimensions13" x 4" x 2.75" | 33cm x 10.2cm x 7cm
Made InMexico
WHY CHOOSE THE PRISM CRAMPON BAG?
ADDED PROTECTION
Lined with rigid foam on both front and back to prevent puncture damage to other items. Also features drainage holes for letting moisture out to prevent oxidation
OPEN WITH EASE
Long zipper pull makes it easy to open with gloves on
ENDLESS STORAGE
Offset zipper opening allows you to store and retrieve crampons easily while keeping them secure when not in use. Internal zippered pocket holds sharps or other hardware and tools like your wrench and spare front points
Features
Internal Pockets:One internal zippered pocket

Construction:Dyneema® Composite Fabric with 1/8" Closed-Cell Rigid Foam

Zipper:YKK #5

Water Resistant:Yes

Drainage:Yes

Compatible With:Prism Pack, Prism Ice Screw Case, Other Climbing Packs
Product Video
FREE SHIPPING ON ORDERS OVER $200