WHEN IT'S JUST GOING TO BE DINNER FOR ONE, THIS IS HOW TO MAKE THE EVENING SPECIAL
Had we not witnessed it ourselves numerous times, it might be hard to believe that anyone could get so excited about a small vessel and lid. But pulling a fresh one out of its box and imagining how it will age is what gets the beholder every time and turns up the stoke. The more trips one goes on and the more it gets used, the better it looks with all the minor scrapes, dings, and burn marks it will inevitably accumulate. Not only is it a great way to show off how much time you and your mug spend in the woods, but it'll also do an awesome job keeping you fed too. We love this thing.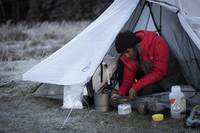 WHY CHOOSE THE VARGO TITANIUM TI-LITE 750ML MUG?
WHY CHOOSE THE VARGO TITANIUM TI-LITE 750ML MUG?
IT'S A POT AND A LID
The Ti-Lite 750 Mug is pure function. No gimmicks, it's just engineered to help you eat for years to come
A GREAT SIZE FOR ONE
Stows away nicely in your pack or your kitchen and food-specific Pod, and nests a 100g fuel canister
DESTINED FOR GEAR FAVORITISM
Fun to grab anytime you're hungry, and a pleasure to look at the more you use it
FEATURES
Construction:Ultralight Titanium, Biocompatible

Design:Features foldaway handles and a strainer lid with easy-to-grip heat-resistant knob to prevents burns

Includes:Nylon mesh storage bag
SPECS & DIMENSIONS
Weight4.1 oz. | 117g
Capacity750mL | 20 oz.
Height4.2" | 10.7cm
Diameter3.8" | 9.7cm
Made ByVargo
WHY CHOOSE THE VARGO TITANIUM TI-LITE 750ML MUG?
IT'S A POT AND A LID
The Ti-Lite 750 Mug is pure function. No gimmicks, it's just engineered to help you eat for years to come
A GREAT SIZE FOR ONE
Stows away nicely in your pack or your kitchen and food-specific Pod, and nests a 100g fuel canister
DESTINED FOR GEAR FAVORITISM
Fun to grab anytime you're hungry, and a pleasure to look at the more you use it
Features
Construction:Ultralight Titanium, Biocompatible

Design:Features foldaway handles and a strainer lid with easy-to-grip heat-resistant knob to prevents burns

Includes:Nylon mesh storage bag
Product Video
FREE SHIPPING ON ORDERS OVER $200