RECOMMENDED FOR 1-2 PEOPLE
UltaMid 2 Insert with DCF11 Floor
The bug and moisture barrier companion to our UltaMid 2 Pyramid Tent.
IDEAL FOR
Up to 2 People
Keeping Condensation to a Minimum
Protection from Bugs & Wet Environments
Pairing with the Ultamid 2 Pyramid Tent
ULTIMATE BARRIER OF PROTECTION FROM BUGS & MOISTURE
This four-wall UltaMid 2 Insert features "no-see-um" mesh and a Dyneema® Composite Fabrics floor for adventurers who want to keep the bugs at bay and gear dry. Built to fit into the UltaMid 2, the 100% waterproof DCF11 bathtub-style base ensures excellent protection in inclement weather. The insert is marginally smaller than the perimeter of the UltaMid, so it never touches the walls and keeps condensation to a minimum. This two-person insert with a bathtub floor makes the UltaMid 2 a home in any environment. UltaMid 2 Tent, Ultralight Stake Kit, and UltaMid Carbon Fiber Tent Pole sold separately.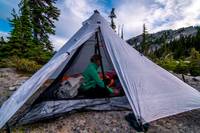 WHY CHOOSE THE ULTAMID 2 INSERT WITH FLOOR?
WHY CHOOSE THE ULTAMID 2 INSERT WITH FLOOR?
ADDED PROTECTION
Reinforced zones in peak and floor for center pole contact points add protection high tension areas
LARGE ENTRY & EXIT
Full-Panel #5 YKK zippers provides a large exit and entry. Multi-sided zippers across the length of the base, and one full-length top to bottom zipper
DURABLE MATERIALS
DCF11 Dyneema® composite fabrics bathtub floor with No-See-Um mesh walls provide a barrier from bugs and wet environments
FEATURES
Fit to Shelter:Adjustable shock cord with glove hooks attach corners to shelter

Zipper:Vertical two-way zipper running from floor to shelter door with two horizontal zippers running the width of the floor

Floor:DCF11 Dyneema® Composite Fabrics Bathtub Floor with DCH150 Reinforced Center Patch for Pole Contact Point

Guy Lines:Sewn-in guy line for tying back door panels

Cone:Top, center-pole cone reinforced with Hardline with Dyneema®

Compatible With:UltaMid 2 Ultralight Pyramid Tent

Includes:X-Large Drawstring Stuff Sack & Carabiner (UltaMid 2 Tent, Ultralight Stake Kit, and UltaMid Carbon Fiber Tent Pole sold separately)
Featured Product Reviews
This Insert is My Favorite.
This insert is my favorite. I usually am hiking with my boyfriend and we've never been so comfortable in a tent. There is room to sit all the way up and comfortably fit all of our gear in with us! Very simple set up.
Verified Buyer
Worth Every Penny
Originally, I only purchased the Mid, but later decided to get the insert. I live in Georgia and bugs can be a problem during the summer months. It's light, easily sets up, basically cleans itself and lets me keep the doors open at night for ventilation.
Verified Buyer
Excellent Insert, Quick and Easy to Set Up
Great to be able to set up outer separately when raining and add keep dry whilst setting up inner from inside. Plenty of distance between inner and outer for good airflow and keeping dry. Another outstanding product from Hyperlite
Verified Buyer
SPECS & DIMENSIONS
Wall MaterialNo-See-Um Mesh
Floor MaterialDCF11
Weight1.4 lbs | 22.0 oz | 624g
Capacity1-2 People
Packed Dimensions12.0" x 7.5" x 5.0" | 31cm x 19cm x 13cm
Area50 sq. ft.
Width76.0" | 193cm
Length96.0" | 243cm
Height64.0" | 162cm
Made InMexico
WHY CHOOSE THE ULTAMID 2 INSERT WITH FLOOR?
ADDED PROTECTION
Reinforced zones in peak and floor for center pole contact points add protection high tension areas
LARGE ENTRY & EXIT
Full-Panel #5 YKK zippers provides a large exit and entry. Multi-sided zippers across the length of the base, and one full-length top to bottom zipper
DURABLE MATERIALS
DCF11 Dyneema® composite fabrics bathtub floor with No-See-Um mesh walls provide a barrier from bugs and wet environments
Features
Fit to Shelter:Adjustable shock cord with glove hooks attach corners to shelter

Zipper:Vertical two-way zipper running from floor to shelter door with two horizontal zippers running the width of the floor

Floor:DCF11 Dyneema® Composite Fabrics Bathtub Floor with DCH150 Reinforced Center Patch for Pole Contact Point

Guy Lines:Sewn-in guy line for tying back door panels

Cone:Top, center-pole cone reinforced with Hardline with Dyneema®

Compatible With:UltaMid 2 Ultralight Pyramid Tent

Includes:X-Large Drawstring Stuff Sack & Carabiner (UltaMid 2 Tent, Ultralight Stake Kit, and UltaMid Carbon Fiber Tent Pole sold separately)
Setup Demonstration Video | UltaMid Insert
MORE FROM HYPERLITE
FREE SHIPPING ON ORDERS OVER $200