The Bottle Pocket
You can count on this clutch hydration accessory to hold its water.
IDEAL FOR
On-The-Go Hydration
Attaching to Most Shoulder Straps
Any Activity
Any Environment
THE BOTTLE POCKET WEARS ITS HEART ON YOUR SHOULDER STRAP. IT'S GOT ONE JOB TO DO AND IT DOES IT EXCEPTIONALLY WELL
Building a forward-focused kit gets a lot easier with the right accessories, and for on-the-go hydration, the Bottle Pocket takes on the task like a boss. Considering how frequently the Bottle Pocket will be stuffed and pulled on, we chose materials built to endure repeated cycles of use; durable stretch mesh, DCF50 Dyneema Composite Fabrics, 1/8th inch high-density foam, and rugged Gatekeeper hitch locks that attach to most shoulder straps with daisy chains. Refreshment, where you want it, when you need it.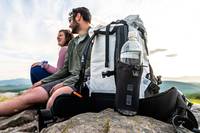 WHY CHOOSE THE BOTTLE POCKET?
WHY CHOOSE THE BOTTLE POCKET?
LIGHT, DURABLE, AND SECURE
For how much you'll use the Bottle Pocket, these are good qualities
ADJUSTABLE SHOCK CORD AND CORD LOCK
Bottle shapes may come and go, but they won't leave you
RUGGED HARDWARE

Trail-proven Gatekeeper attachment clips offer a tenacious hold
FEATURES
Fabric:Black DCF50 backing

Shoulder Straps:Attaches to shoulder straps via two ¾" Gatekeeper hitch locks

Storage:Durable stretch mesh to accommodate a variety of bottle shapes up to 700ml in volume

Construction:1/8th inch high-density foam for structure and rigidity

Built-In Cord:: Adjustable shock cord with cord lock for security
SPECS & DIMENSIONS
MaterialsDCH50, durable stretch mesh, and 1/8" high density foam
Weight0.08 lbs | 1.2 oz | 34.5g
Capacity.91L
Dimensions8" tall x 3" wide
Top Circumference11"
Made InMexico
WHY CHOOSE THE BOTTLE POCKET?
LIGHT, DURABLE, AND SECURE
For how much you'll use the Bottle Pocket, these are good qualities
ADJUSTABLE SHOCK CORD AND CORD LOCK
Bottle shapes may come and go, but they won't leave you
RUGGED HARDWARE

Trail-proven Gatekeeper attachment clips offer a tenacious hold
Features
Fabric:Black DCF50 backing

Shoulder Straps:Attaches to shoulder straps via two ¾" Gatekeeper hitch locks

Storage:Durable stretch mesh to accommodate a variety of bottle shapes up to 700ml in volume

Construction:1/8th inch high-density foam for structure and rigidity

Built-In Cord:: Adjustable shock cord with cord lock for security
Hiking Video | The Bottle Pocket
FREE SHIPPING ON ORDERS OVER $200