NOW AVAILABLE IN EXTRA SMALL!
Southwest 40
Formerly '2400 Southwest'
Our preferred pack for backpacking in dense, heavily wooded trails in the roughest, toughest climates.
40L PACK, IDEAL FOR
Dry, Rocky Environments
Backpacking
OUR CLOSE QUARTERS TRAIL PACK
The Southwest 40 keeps you honest about packing smart and efficiently on weekend or section hikes where the supplies you may need to replace along the way are never too far out of reach.
When the route is thick with vegetation, requires the occasional up and over immovable objects, and calls for "suck in your gut and shimmy through" type moves, the Southwest is the backpack you want up-close and personal. This pack family is made specifically for tough adventures that would rip most other ultralight-style packs to shreds.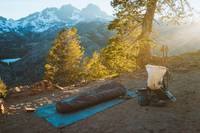 WHY CHOOSE THE SOUTHWEST 40?
WHY CHOOSE THE SOUTHWEST 40?
SOLID & SECURE
Three easily accessible external pockets to store and protect your gear
DURABLE ABRASION PROTECTION
External Hardline with Dyneema® side pockets keep your gear protected and free from any unwanted snags or abrasion
WATERPROOF MATERIALS
Pair with our Stuff Sacks for a buttoned up, nearly waterproof kit
FEATURES
External Pockets:Three external, solid Hardline with Dyneema® pockets

Zippered Pockets:Hardline with Dyneema® zippered pockets on hip belt with #5 YKK zipper

Internal Sleeve:Internal 8" x 14" mesh sleeve for hydration bladder

Top Closure:Roll-Top closure system with side compression straps for vertical compression

Hip Belt:Hardline with Dyneema® dual-density hip belt with 1/8" closed cell rigid foam, 1/4" closed cell foam and spacer mesh

Back:Integrated 1/4" foam back panel pad

Loops:Grab Loop & Ice Axe loop

Side Straps:Side compression straps for horizontal compression

Top Compression Straps:Top Y-strap compression -- Designed to secure gear

Shoulder Straps:Hardline with Dyneema® shoulder straps with 3/8" closed cell foam and spacer mesh

Sternum Straps:Adjustable sternum strap with self-tensioning elastic and whistle

Buckles/Bungees:Four exterior triglide buckles for optional pack accessory straps

Stays:Two removable, contoured aluminum stays

Sealing:Seam tape on all vertical side seams and behind all sewn-on pack features

Pack Accessory Options:Shoulder Pocket, Versa, Stuff Sacks & Pods

Daisy Chains:Daisy chains on shoulder straps

Water Resistant:Yes

Compatible With:Pods, Drawstring or Roll-Top Stuff Sacks, Stuff Sack Pillow
Featured Product Reviews
Excellent Ultralight Durable Pack and Comfortable!
What a difference a pack can make on difficult climbs. The Hyperlite Mountain Gear 2400 Southwest is not just tough enough for the rocky canyons of the American Southwest its named after, it can handle the White Mountains in winter. Forget the bells and whistles, this pack doesn't need them to perform flawlessly.
Verified Buyer
Greatness
I really like this pack. Lightweight and comfortable to carry. Very well Made with durable material. This is just a straight forward, sweet pack that can be used anywhere.
Verified Buyer
Plain and Simple Excellence
I hiked the CDT with this pack. It has everything you need or want: nice support, great fit, plenty of space, and the outer pockets are perfect.
Verified Buyer
SPECS & DIMENSIONS
MaterialsWhite: DCH50 (Main Body) & DCH150 (Bottom)
Black: DCH150 (Main Body & Bottom)
Internal Volume40L | 2400 cu in.
External Volume9.8L | 600 cu in.
WeightWhite: 1.9 lbs | 30.8 oz | 872 g
Black: 2.0 lbs | 31.9 oz | 904 g
*Average weight based on size medium
Load CapacityUp to 40 lbs
Back Width10.5" | 26.7 cm
Height (Fully Unrolled)30.0" | 76.2 cm
Top Circumference37.5" | 95.3 cm
Bottom Circumference33.5" | 85.1 cm
Made InMexico
WHY CHOOSE THE SOUTHWEST 40?
SOLID & SECURE
Three easily accessible external pockets to store and protect your gear
DURABLE ABRASION PROTECTION
External Hardline with Dyneema® side pockets keep your gear protected and free from any unwanted snags or abrasion
WATERPROOF MATERIALS
Pair with our Stuff Sacks for a buttoned up, nearly waterproof kit
Features
External Pockets:Three external, solid Hardline with Dyneema® pockets

Zippered Pockets:Hardline with Dyneema® zippered pockets on hip belt with #5 YKK zipper

Internal Sleeve:Internal 8" x 14" mesh sleeve for hydration bladder

Top Closure:Roll-Top closure system with side compression straps for vertical compression

Hip Belt:Hardline with Dyneema® dual-density hip belt with 1/8" closed cell rigid foam, 1/4" closed cell foam and spacer mesh

Back:Integrated 1/4" foam back panel pad

Loops:Grab Loop & Ice Axe loop

Side Straps:Side compression straps for horizontal compression

Top Compression Straps:Top Y-strap compression -- Designed to secure gear

Shoulder Straps:Hardline with Dyneema® shoulder straps with 3/8" closed cell foam and spacer mesh

Sternum Straps:Adjustable sternum strap with self-tensioning elastic and whistle

Buckles/Bungees:Four exterior triglide buckles for optional pack accessory straps

Stays:Two removable, contoured aluminum stays

Sealing:Seam tape on all vertical side seams and behind all sewn-on pack features

Pack Accessory Options:Shoulder Pocket, Versa, Stuff Sacks & Pods

Daisy Chains:Daisy chains on shoulder straps

Water Resistant:Yes

Compatible With:Pods, Drawstring or Roll-Top Stuff Sacks, Stuff Sack Pillow
Product Walkthrough Video | Southwest
FREE SHIPPING ON ORDERS OVER $200