HYDRATION AT YOUR FINGERTIPS
With a little bit of extra space inside your pack or a big enough exterior pocket (like those on our best-selling Windrider and Southwest packs), you can have hydration at your fingertips via an over the shoulder or hip belt attached hose. The Platypus Hoser 2.0L Reservoir has become a go-to with backpackers and thru hikers for this and many more reasons. When empty, it lays flat or rolls up without taking up precious space, and it's made out BPA-free, BPS-free, and phthalate-free for a clean taste. Embedded silver-ion also protects the reservoir from mold and bacteria. Science and refreshment? A win-win in our book. 
Not available for purchase with international orders.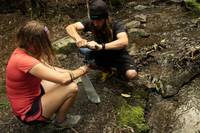 WHY CHOOSE THE PLATYPUS HOSER RESERVOIR?
WHY CHOOSE THE PLATYPUS HOSER RESERVOIR?
NO AFTERTASTE
Silver-ion antimicrobial technology keeps water clean and tasteless
EASY TO USE
Hyperflow silicone bite valve makes drinking easy
VERSATILE FIT
Fits in almost any pack for on the go drinking
FEATURES
BPA-Free:Yes

Compatible With:Platypus Ergo Shut Off Valve, Windrider & Southwest Packs

Includes:Lapel Clip
SPECS & DIMENSIONS
MaterialsBPA-FREE Polyethylene
Internal Volume2.0L
Weight0.22 lbs | 3.6 oz | 102g
Dimensions16" (L) x 6" (W)
Made ByPlatypus
WHY CHOOSE THE PLATYPUS HOSER RESERVOIR?
NO AFTERTASTE
Silver-ion antimicrobial technology keeps water clean and tasteless
EASY TO USE
Hyperflow silicone bite valve makes drinking easy
VERSATILE FIT
Fits in almost any pack for on the go drinking
Features
BPA-Free:Yes

Compatible With:Platypus Ergo Shut Off Valve, Windrider & Southwest Packs

Includes:Lapel Clip
Product Video
MORE FROM HYPERLITE
FREE SHIPPING ON ORDERS OVER $200