Mid 1
If we had to pitch our version of the perfect ultralight, three-season backcountry shelter for solo backpackers, the Mid 1 is it.
IDEAL FOR
1-Person
3-Season
Long-Distance Backpacking
WILD PLACES, PARTY OF ONE
For the backpacker that enjoys the simplicity and solitude that comes with solo travel, the Mid 1 three-season pyramid tent fits the vibe. Constructed with our trusted and favorite blends of ultralight, durable, and 100% waterproof made-in-the-USA Dyneema© Composite Fabrics, this single-wall, fully enclosed, single pole retreat builds off what we already know so well from the decade we, and countless kindred explorers, have experienced with the legendary UltaMid 2 and 4. Scaled down to accommodate one person with plenty of room to spare, with a weight of less than 16.8 oz, the Mid 1 is quick and efficient to set up, quiet and stable in wind and rain, and easy to live and recharge in. So head out and claim your little corner of this big ol' wonderful world wherever you land each night. The MID 1 is an ideal companion for those that go it alone.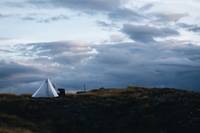 WHY CHOOSE THE MID 1 SHELTER?
WHY CHOOSE THE MID 1 SHELTER?
KEEP WHAT'S GOING ON OUTSIDE, OUTSIDE
100% waterproof Dyneema Composite Fabrics, water resistant hardware, and wind-shedding walls provide a well-deserved break and a shield against the elements
AS EFFICIENT AS YOU ARE
Set up and take down is quick and easy, the large crescent door opens with one hand, and guylines can be tailored to your preferred placements
AN ULTRALIGHT HOME COMFORT SYSTEM
Adjust the height of the bathtub floor to increase airflow or keep out moisture. Dual peak vents help mitigate condensation
FEATURES
Floor:6" DCF10 bathtub floor measures 32" x 96". Rear of bathtub features multiple adjustment points.

Door:Internal Door - No-See-Um crescent mesh door with dual #3 YKK zippers | Vestibule Door - #3 YKK Aquaguard zippered vestibule doors with magnetic door keepers

Tie-Outs:Interchangeable vestibule door tie-out points. 6 perimeter tie-outs with linelocs reinforced with DCF11. 2 rear mid-panel tie-outs, 2 side mid-panel tie outs. 1 apex tie-out.

Cone:Apex reinforced with DCH50

Pitch:Sets up with a single trekking pole at 135 +/- 5cm.

Includes:One 6", 0.6oz pole jack for use with shorter trekking poles (Ultralight Stake Kit and Pole sold separately)
SPECS & DIMENSIONS
Materials DCF5, DCF10, No-See-Um Mesh
Weight1.05 lbs | 16.80 oz. | 476.27 g
Capacity1 Person
Packed Dimensions8.5" x 5.5" x 5.5"
Area21 Sq. Ft
WidthExterior: 54" or 137cm | Interior: 32" or 81 cm
LengthExterior: 107" or 271cm | Interior: 96" or 244 cm
Height54" | 137 cm
Made InMexico
WHY CHOOSE THE MID 1 SHELTER?
KEEP WHAT'S GOING ON OUTSIDE, OUTSIDE
100% waterproof Dyneema Composite Fabrics, water resistant hardware, and wind-shedding walls provide a well-deserved break and a shield against the elements
AS EFFICIENT AS YOU ARE
Set up and take down is quick and easy, the large crescent door opens with one hand, and guylines can be tailored to your preferred placements
AN ULTRALIGHT HOME COMFORT SYSTEM
Adjust the height of the bathtub floor to increase airflow or keep out moisture. Dual peak vents help mitigate condensation
Features
Floor:6" DCF10 bathtub floor measures 32" x 96". Rear of bathtub features multiple adjustment points.

Door:Internal Door - No-See-Um crescent mesh door with dual #3 YKK zippers | Vestibule Door - #3 YKK Aquaguard zippered vestibule doors with magnetic door keepers

Tie-Outs:Interchangeable vestibule door tie-out points. 6 perimeter tie-outs with linelocs reinforced with DCF11. 2 rear mid-panel tie-outs, 2 side mid-panel tie outs. 1 apex tie-out.

Cone:Apex reinforced with DCH50

Pitch:Sets up with a single trekking pole at 135 +/- 5cm.

Includes:One 6", 0.6oz pole jack for use with shorter trekking poles (Ultralight Stake Kit and Pole sold separately)
Product Walkthrough Video | Mid 1
USE IT WITH
FREE SHIPPING ON ORDERS OVER $200