STRAIGHT UP & SUPER LIGHT
Nothing diminishes the awesomeness of a piece of gear like an unwieldy shape. It doesn't fit well with your other stuff, needs to be in its "own place," or you can always feel it no matter how you position it – it will eventually lead you into the realms of madness. The Platypus Platy 2.0L Ultralight Collapsible Water Bottle will do none of these things to you or your kit. It's super light, taste-free, phthalate-free, BPA-free, BPS-free, and just straight up BS free. So simple and so great, we love this thing enough to believe it should be required equipment in the outdoors. 
Not available for purchase with international orders.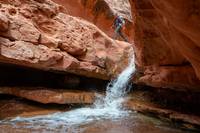 FEATURES
BPA-Free:BPA Free, BPS Free & Phthalate Free

Compatible With:Platypus Hoser Reservoir, Platypus Ergo Shut-Off Valve, GravityWorks & Other Water Filters, Threaded Platypus Caps or Drink Tube
SPECS & DIMENSIONS
Internal Volume2.0L
Weight0.06 lbs | 1.0 oz | 28g
Made ByPlatypus
Features
BPA-Free:BPA Free, BPS Free & Phthalate Free

Compatible With:Platypus Hoser Reservoir, Platypus Ergo Shut-Off Valve, GravityWorks & Other Water Filters, Threaded Platypus Caps or Drink Tube
Product Video
FREE SHIPPING ON ORDERS OVER $200