Wordmark Tee
Premium cotton/poly blend that stands up to consistent wear without sacrificing fit or feel.
IDEAL FOR
Achieving Peak Fit & Feel
Representing Hyperlite Mountain Gear
Any Activity
Any Environment
WHO DO YOU HIKE WITH? SPELL IT OUT FOR THEM
Just a little pop of logo amongst a comfortable sea of adventurous colors. Our name on the sleeve to wrap things up.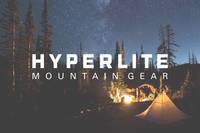 SPECS & DIMENSIONS
Materials60% Cotton | 40% Polyester
FabricSoft cotton/poly blend
StyleCrew neck
Made InImported
Product Video
FREE SHIPPING ON ORDERS OVER $200