2022 GEAR PATROL GP100 AWARDS "BEST IN OUTDOORS"
Unbound 40
Born from and for the most transformative journeys, the Unbound 40 is built to go above and beyond the rigors of thru hiking.
40L PACK, IDEAL FOR
Long Distance Backpacking & Thru Hiking
Any Environment
DAY IN, DAY OUT. THIS IS THE PACK FOR THE LONGEST TRAILS
There is simply no better way to measure the effectiveness of a pack design than to send it out on thru hikes. Over the course of 2,000+ miles and an average of five to six months, day in, day out, loaded and unloaded, jostled and dragged, and exposed to the elements, one of these long walks is going to tell you the truth. So, that's what we went after, and the Unbound 40 is the honest to goodness result. Every carefully considered feature fought for its right to remain, leaving only the essentials required for an efficient, comfortable, adaptable, and dependable travel companion. Thru hiking is hard enough. Let the Unbound 40 carry some of the weight.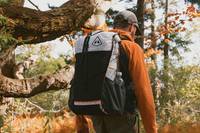 WHY CHOOSE THE UNBOUND 40?
WHY CHOOSE THE UNBOUND 40?
ACCESSIBILITY ON THE MOVE
Large dual-entry front external pocket for quick grabs without needing to dig through everything inside. Generously sized side pockets and a stretch bottom pocket add even more storage options
MAKE IT YOUR OWN
Low-profile daisy chains allow countless ways to carry external items for different kinds of trips. Remove or add top-side compression straps depending on needs, or shock cord for oddly shaped gear
COMPLETE SEAM TAPING
With the exterior binding, seam bulking is eliminated within the pack, allowing for more efficient taping and improved water resistance
FEATURES
Top Closure:Roll-top closure system with removable side compression straps for customizable compression

Hip Belt:Updated removable hip belt provides more cushion and the ability to customize your pack fit. Built using Hardline with Dyneema, dual-density 1/8" closed cell rigid foam, 1/4" closed cell foam, and spacer mesh

Back:Integrated plastic sheet with 1/4" high-density foam back panel pad

Loops:Grab Loop

Side Straps:Removable vertical compression straps

Top Compression Straps:Top Y-strap compression -- Designed to secure gear

Shoulder Straps:Hardline with Dyneema® shoulder straps with 3/8" closed cell foam and spacer mesh

Sternum Straps:Updated sternum strap allows for easy adjustments along shoulder strap daisy chains

Buckles/Bungees:New 5/8" hardware minimizes weight without sacrificing durability

Stays:One removable, contoured aluminum stay

Sealing:Seam tape on all vertical side seams and behind all sewn-on pack features

Pack Accessory Options:Shoulder Pocket, Versa, Stuff Sacks, and Pods

Daisy Chains:Four 1/4" vertical daisy chains for attaching extra gear for trip-specific customization, in addition to a horizontal daisy chain below dual-entry front pocket

Compatible With:All Hyperlite Stuff Sacks and Hyperlite Mountain Gear Removable Hip Belts

Front External Pockets:Large dual-entry front pocket provides significant storage as well as streamlined access to smaller items (i.e. tent stakes). Made from durable Dyneema® Stretch Mesh

Side External Pockets:Oversized Side Pockets for streamlined access to water bottles and other gear on the go

Bottom External Pocket:Bottom pocket features durable Dyneema Stretch Mesh, ideal for easy access to snacks or a quick place to store your rain jacket
SPECS & DIMENSIONS
MaterialsWhite: DCH50, DCH150, Hardline with Dyneema | Black: DCH150, Hardline with Dyneema
Internal Volume40L
External Volume9L
WeightWhite: 1.9 lbs | 30.1 oz | 853 g | Black: 2.0 lbs | 32.2 oz | 914 g *Average weight based on size medium
Load CapacityUp to 40 lbs
Back Width10.0" | 25.4cm
Height32.5" | 82.6cm
Top Circumference35.0" | 88.9cm
Bottom Circumference35.0" | 88.9cm
Made InMexico
WHY CHOOSE THE UNBOUND 40?
ACCESSIBILITY ON THE MOVE
Large dual-entry front external pocket for quick grabs without needing to dig through everything inside. Generously sized side pockets and a stretch bottom pocket add even more storage options
MAKE IT YOUR OWN
Low-profile daisy chains allow countless ways to carry external items for different kinds of trips. Remove or add top-side compression straps depending on needs, or shock cord for oddly shaped gear
COMPLETE SEAM TAPING
With the exterior binding, seam bulking is eliminated within the pack, allowing for more efficient taping and improved water resistance
Features
Top Closure:Roll-top closure system with removable side compression straps for customizable compression

Hip Belt:Updated removable hip belt provides more cushion and the ability to customize your pack fit. Built using Hardline with Dyneema, dual-density 1/8" closed cell rigid foam, 1/4" closed cell foam, and spacer mesh

Back:Integrated plastic sheet with 1/4" high-density foam back panel pad

Loops:Grab Loop

Side Straps:Removable vertical compression straps

Top Compression Straps:Top Y-strap compression -- Designed to secure gear

Shoulder Straps:Hardline with Dyneema® shoulder straps with 3/8" closed cell foam and spacer mesh

Sternum Straps:Updated sternum strap allows for easy adjustments along shoulder strap daisy chains

Buckles/Bungees:New 5/8" hardware minimizes weight without sacrificing durability

Stays:One removable, contoured aluminum stay

Sealing:Seam tape on all vertical side seams and behind all sewn-on pack features

Pack Accessory Options:Shoulder Pocket, Versa, Stuff Sacks, and Pods

Daisy Chains:Four 1/4" vertical daisy chains for attaching extra gear for trip-specific customization, in addition to a horizontal daisy chain below dual-entry front pocket

Compatible With:All Hyperlite Stuff Sacks and Hyperlite Mountain Gear Removable Hip Belts

Front External Pockets:Large dual-entry front pocket provides significant storage as well as streamlined access to smaller items (i.e. tent stakes). Made from durable Dyneema® Stretch Mesh

Side External Pockets:Oversized Side Pockets for streamlined access to water bottles and other gear on the go

Bottom External Pocket:Bottom pocket features durable Dyneema Stretch Mesh, ideal for easy access to snacks or a quick place to store your rain jacket
Product Walkthrough Video | Unbound 40
FREE SHIPPING ON ORDERS OVER $200