RECOMMENDED FOR 2-4 PEOPLE
UltaMid 4 – Ultralight Pyramid Tent
Our legendary four-season, four-person ultralight pyramid shelter.
IDEAL FOR
2-4 People
Four-Season Expeditions
Protection from the Elements
Pairing with Inserts & Ground Cloths
UNPACK THE COMFORT & SECURITY OF HOME, WHEREVER HOME MAY BE
The UltaMid 4 has the dimensions to accommodate a group of four, serve as a basecamp shelter, or provide protection for packrafting, alpine expedition, or bikepacking gear. When it comes to portable shelter, few designs have been as thoroughly time-tested and proven as those built in the pyramid-style. They're easy to set up, efficiently spacious, and because of things like physics, incredibly capable of providing sanctuary in all but the most extreme weather.
While the remarkable 1.44 lbs. weight of the UltaMid 4 will be a welcome reduction to any kit's overall mass, put any concerns to rest that it translates to a sacrifice in durability. The 100% waterproof Dyneema® Composite Fabrics used to build this elegant structure will outlast garden-variety silnylon materials many times over. The Ultamid 4 can be pitched high off the ground or tight to the ground. Set up with adjustable trekking poles or suspend from central peak. UltaMid Inserts, Ultralight Stake Kit, and UltaMid Carbon Fiber Tent Pole sold separately.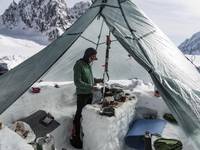 WHY CHOOSE THE ULTAMID 4 PYRAMID TENT?
WHY CHOOSE THE ULTAMID 4 PYRAMID TENT?
FOUR SEASON RETREAT
A four-season retreat for up to four people. Protection from the elements no matter when you're out exploring
WATERPROOF MATERIALS
Fully-taped, DCF8 Dyneema® composite fabric panels constructed with 100% waterproof materials for confident nights of sleep in harsh weather conditions
SECURE HOLD
Dual peak vents with No-See-Um mesh keeps the air circulating and helps mitigate condensation. Legendary protection when the going gets windy
FEATURES
Seams:Fully Taped Seams

Zipper:Water Resistant Two-Way Zipper

Ceiling:Dual peak vents with no-see-um mesh

Tie-Outs:Eight reinforced perimeter tie-outs with line locks, 4 center panel tie-outs, 1 tie-out on cone for hanging from trees.

Guy Lines:Eight 3' 2.8mm UHMWPE Core Guy Lines for Perimeter Tie-Outs

Cone:Specially designed to prevent deformation when using oddly shaped poles, paddles, sticks or skis.

Water Resistant:Yes

Compatible With:Ultamid 4 Half Insert, UltaMid 4 Insert No Floor, UltaMid 4 Insert with DCF11 Floor, Ground Cloth

Includes:X-Large Drawstring Stuff Sack & Additional 100' of 2.8mm UHMWPE Core Guy Lines (UltaMid 4 Inserts, Ultralight Stake Kit, and UltaMid Carbon Fiber Tent Pole sold separately)
Featured Product Reviews
Best Tent I Have Ever Owned.
Used the UMD4 with full insert with two sons in Yellowstone in July and it was a palace. In September we used the UMD4 with half insert and one son fishing and it was perfect. Fantastic product, great service. Highly recommend it. Thank you HMG!
Verified Buyer
Finally Got My Dream Mid...
Its reputation proceeds it. I'll let you know how I love it in 10 years. So cool to see the production process for the material, and that it uses minimal fossil fuels.
Verified Buyer
Fantastic, Spacious, Light
I'm a solo parent who backpacks with three kids. Combined with the full insert with floor, this still cuts five pounds off my base weight compared to my old tent, and it's roomy enough to fit the four of us and all of our gear INSIDE.
Verified Buyer
SPECS & DIMENSIONS
MaterialsDCF8
Weight1.7 lbs | 27.1 oz. | 769g
Capacity2-4 People
Packed Dimensions10.0" x 7.0" x 5.5" | 25cm x 18cm x 14cm
Area85 sq. ft.
Width111.0" | 282cm
Length111.0" | 282cm
Height75.0" | 190.5cm
Made InMexico
WHY CHOOSE THE ULTAMID 4 PYRAMID TENT?
FOUR SEASON RETREAT
A four-season retreat for up to four people. Protection from the elements no matter when you're out exploring
WATERPROOF MATERIALS
Fully-taped, DCF8 Dyneema® composite fabric panels constructed with 100% waterproof materials for confident nights of sleep in harsh weather conditions
SECURE HOLD
Dual peak vents with No-See-Um mesh keeps the air circulating and helps mitigate condensation. Legendary protection when the going gets windy
Features
Seams:Fully Taped Seams

Zipper:Water Resistant Two-Way Zipper

Ceiling:Dual peak vents with no-see-um mesh

Tie-Outs:Eight reinforced perimeter tie-outs with line locks, 4 center panel tie-outs, 1 tie-out on cone for hanging from trees.

Guy Lines:Eight 3' 2.8mm UHMWPE Core Guy Lines for Perimeter Tie-Outs

Cone:Specially designed to prevent deformation when using oddly shaped poles, paddles, sticks or skis.

Water Resistant:Yes

Compatible With:Ultamid 4 Half Insert, UltaMid 4 Insert No Floor, UltaMid 4 Insert with DCF11 Floor, Ground Cloth

Includes:X-Large Drawstring Stuff Sack & Additional 100' of 2.8mm UHMWPE Core Guy Lines (UltaMid 4 Inserts, Ultralight Stake Kit, and UltaMid Carbon Fiber Tent Pole sold separately)
Setup Demonstration Video | UltaMid Shelter
MORE FROM HYPERLITE
FREE SHIPPING ON ORDERS OVER $200