Prism Alpine Climbing Kit
$475.00
The ultimate setup for alpine pursuits.
KIT PRICE REFLECTS $50 SAVINGS
THE ULTIMATE SET-UP FOR ALPINE PURSUITS
Three is the magic number when it comes to the ultimate setup for alpine pursuits! The Prism Pack, Ice Screw Case, and Crampon Bag deliver the best results for winter adventure when used as a system. Each piece brings unparalleled efficiency and organization to your endeavor with the right volumes for critical gear and the protection that gear needs for optimal performance in the field. Purchasing each piece at once as a kit not only sets you up for next-level user experiences, it also lowers the price.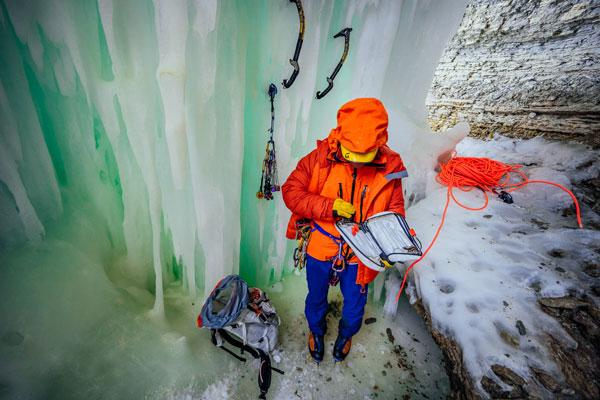 PRISM PACK
FEATURES
External Pockets:Diamond pocket locks axe heads in place without additional buckles. Low profile side sleeve pockets with drainage holes hold mountaineering wands/pickets.

Top Closure:Drawstring closure system with extendable collar and cinch cord. Floating lid allows for pack expansion.

Hip Belt:Removable Hardline with Dyneema® dual-density hip belt built with 1/8" closed cell rigid foam, 1/4" closed cell foam and spacer mesh.

Back:Integrated 1/4" foam back panel pad and plastic stiffener provide shoulder and spine support for a comfortable and secure carry.

Loops:Ice Axe Loop & Grab Loop

Side Straps:Four side compression straps for horizontal compression or attach additional items like snowboards and sleeping pads

Top Compression Straps:Top compression strap secures gear stored under the lid and brings the load closer to your center of gravity.

Shoulder Straps:Hardline with Dyneema® shoulder strap construction with 3/8" closed cell foam and spacer mesh.

Sternum Straps:Adjustable sternum strap with self-tensioning elastic and whistle

Buckles/Bungees:Reflective bungees with quick-release pull tabs secure axe handles

Stays:One removable, contoured aluminum stay

Sealing:Proprietary seam taping on all side seams and behind all sewn-on pack features

Stress Point Reinforcement:Bar tacked reinforcements on all stress points

Pack Accessory Options:Prism Ice Screw Case, Prism Crampon Bag, Shoulder Pocket, Versa, REpack, Stuff Sacks & Pods

Daisy Chains:Four external daisy chains for attaching extra gear for trip-specific customization.

Water Resistant:Yes

Compatible With:Pods, Drawstring or Roll-Top Stuff Sacks, Stuff Sack Pillow
PRISM ICE SCREW CASE
FEATURES
External Pockets:Yes

Zippered Pockets:Yes

Loops:Hang Loop

Zipper:YKK #5 Zipper

Panels:1/8" Closed-Cell Rigid Foam

Water Resistant:Yes

Drainage:Yes

Compatible With:Prism Pack, Prism Crampon Bag, Other Climbing Packs
PRISM CRAMPON BAG
FEATURES
Internal Pockets:Yes

Zippered Pockets:Yes

Zipper:YKK #5 Zipper

Panels:1/8" Closed-Cell Rigid Foam

Water Resistant:Yes

Drainage:Yes

Compatible With:Prism Pack, Prism Ice Screw Case, Other Climbing Packs
FEATURES
PRISM PACK
External Pockets:Diamond pocket locks axe heads in place without additional buckles. Low profile side sleeve pockets with drainage holes hold mountaineering wands/pickets.

Top Closure:Drawstring closure system with extendable collar and cinch cord. Floating lid allows for pack expansion.

Hip Belt:Removable Hardline with Dyneema® dual-density hip belt built with 1/8" closed cell rigid foam, 1/4" closed cell foam and spacer mesh.

Back:Integrated 1/4" foam back panel pad and plastic stiffener provide shoulder and spine support for a comfortable and secure carry.

Loops:Ice Axe Loop & Grab Loop

Side Straps:Four side compression straps for horizontal compression or attach additional items like snowboards and sleeping pads

Top Compression Straps:Top compression strap secures gear stored under the lid and brings the load closer to your center of gravity.

Shoulder Straps:Hardline with Dyneema® shoulder strap construction with 3/8" closed cell foam and spacer mesh.

Sternum Straps:Adjustable sternum strap with self-tensioning elastic and whistle

Buckles/Bungees:Reflective bungees with quick-release pull tabs secure axe handles

Stays:One removable, contoured aluminum stay

Sealing:Proprietary seam taping on all side seams and behind all sewn-on pack features

Stress Point Reinforcement:Bar tacked reinforcements on all stress points

Pack Accessory Options:Prism Ice Screw Case, Prism Crampon Bag, Shoulder Pocket, Versa, REpack, Stuff Sacks & Pods

Daisy Chains:Four external daisy chains for attaching extra gear for trip-specific customization.

Water Resistant:Yes

Compatible With:Pods, Drawstring or Roll-Top Stuff Sacks, Stuff Sack Pillow
PRISM ICE SCREW CASE
External Pockets:Yes

Zippered Pockets:Yes

Loops:Hang Loop

Zipper:YKK #5 Zipper

Panels:1/8" Closed-Cell Rigid Foam

Water Resistant:Yes

Drainage:Yes

Compatible With:Prism Pack, Prism Crampon Bag, Other Climbing Packs
PRISM CRAMPON BAG
Internal Pockets:Yes

Zippered Pockets:Yes

Zipper:YKK #5 Zipper

Panels:1/8" Closed-Cell Rigid Foam

Water Resistant:Yes

Drainage:Yes

Compatible With:Prism Pack, Prism Ice Screw Case, Other Climbing Packs
SPECS & DIMENSIONS
Prism Pack
MaterialDCH150 + DCHW
Internal Volume2400 cu in. | 40 L
External Volume9.8L
Weight1.82 lbs | 29.1 oz | 827g
Load CapacityUp to 50lbs
Back Width11" | 27.9cm
Height - Fully Unrolled35" | 88.9cm
Top Circumference38" | 96.5cm
Bottom Circumference28" | 71.1cm
Made InMAINE, USA
Prism Ice Screw Case
Weight0.34 lbs | 5.4 oz | 152g
Dimensions12" (L) x 6" (W) x 2.5" (D) | 30.5cm x 15.2cm x 6.4cm
Prism Crampon Bag
Weight0.25 lb | 4.0 oz | 113g
Dimension13" (L) x 4" (W) x 2.75" (D) | 33cm x 10.2cm x 7cm
FEATURES
PRISM PACK
External Pockets:Diamond pocket locks axe heads in place without additional buckles. Low profile side sleeve pockets with drainage holes hold mountaineering wands/pickets.

Top Closure:Drawstring closure system with extendable collar and cinch cord. Floating lid allows for pack expansion.

Hip Belt:Removable Hardline with Dyneema® dual-density hip belt built with 1/8" closed cell rigid foam, 1/4" closed cell foam and spacer mesh.

Back:Integrated 1/4" foam back panel pad and plastic stiffener provide shoulder and spine support for a comfortable and secure carry.

Loops:Ice Axe Loop & Grab Loop

Side Straps:Four side compression straps for horizontal compression or attach additional items like snowboards and sleeping pads

Top Compression Straps:Top compression strap secures gear stored under the lid and brings the load closer to your center of gravity.

Shoulder Straps:Hardline with Dyneema® shoulder strap construction with 3/8" closed cell foam and spacer mesh.

Sternum Straps:Adjustable sternum strap with self-tensioning elastic and whistle

Buckles/Bungees:Reflective bungees with quick-release pull tabs secure axe handles

Stays:One removable, contoured aluminum stay

Sealing:Proprietary seam taping on all side seams and behind all sewn-on pack features

Stress Point Reinforcement:Bar tacked reinforcements on all stress points

Pack Accessory Options:Prism Ice Screw Case, Prism Crampon Bag, Shoulder Pocket, Versa, REpack, Stuff Sacks & Pods

Daisy Chains:Four external daisy chains for attaching extra gear for trip-specific customization.

Water Resistant:Yes

Compatible With:Pods, Drawstring or Roll-Top Stuff Sacks, Stuff Sack Pillow
PRISM ICE SCREW CASE
External Pockets:Yes

Zippered Pockets:Yes

Loops:Hang Loop

Zipper:YKK #5 Zipper

Panels:1/8" Closed-Cell Rigid Foam

Water Resistant:Yes

Drainage:Yes

Compatible With:Prism Pack, Prism Crampon Bag, Other Climbing Packs
PRISM CRAMPON BAG
Internal Pockets:Yes

Zippered Pockets:Yes

Zipper:YKK #5 Zipper

Panels:1/8" Closed-Cell Rigid Foam

Water Resistant:Yes

Drainage:Yes

Compatible With:Prism Pack, Prism Ice Screw Case, Other Climbing Packs
Ambassador, Backcountry Adventures
/
August 28, 2019
Backcountry Adventures, Ice Climbing
/
September 24, 2019
Backcountry Adventures, Ice Climbing
/
February 18, 2020