Essential Umbrella
Durable, ultralight personal protection no matter the climate calamity.
ESSENTIAL PROTECTION FROM MOST COMMON THINGS THAT COME OUT OF THE SKY
Regardless of what camp you fall into, "It's the HEAT!" "No, It's the HUMIDITY!", there's no denying that relief from the direct rays of the sun is always a welcome, if not life-saving, treat. Same goes for a bit of help staying dry in wet, cooler environments where the risk of hypothermia increases the more saturated you get.
So, with your safety and madness-prevention in mind, we offer The Essential Backpacking Umbrella. It checks all your boxes regarding weight, protection, and strength in high winds. More and more, on just about any trail, you'll see that experienced backpackers have made umbrellas an indispensable part of their kits. We think ours will more than earn its place in yours.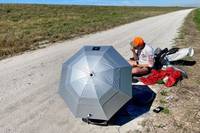 FEATURES
Loops:Integrated hang loops into roll closure

Construction:Dual canopy construction reduces the chance for blow outs in high winds

Design: Ultralight with soft easy grip handle and reflective cord bungee

Water Resistant:Yes, with 50+ UPF protection
Featured Product Reviews
Best Umbrella Ever!!
Just perfect every way!! So light and reflective of all sun's rays and works great in heavy rain. Very well thought out and great construction..
Verified Buyer
Light and Packable
Super light, obviously! But also compact enough to be carried in/on your day pack for use when needed. No longer than most trekking poles…this is a must have for very hot climates where shade can be hard to come by!
Verified Buyer
Perfect Sunbrella Rain or Shine
The vents on this Essential Umbrella overlap enough that they won't leak but provide an escape for wind. I have rigged it so I can hike with it hands free. I rarely hike without my umbrella now as it is so effective, rain or shine.
Verified Buyer
SPECS & DIMENSIONS
Weight0.43 lb | 6.8 oz | 193g
Length24" | 61cm
Diameter38" | 96.5cm
Made InChina
Features
Loops:Integrated hang loops into roll closure

Construction:Dual canopy construction reduces the chance for blow outs in high winds

Design: Ultralight with soft easy grip handle and reflective cord bungee

Water Resistant:Yes, with 50+ UPF protection
Product Video
FREE SHIPPING ON ORDERS OVER $200