FREEZER BAG COOK SYSTEM
REpack
A super light, super simple pocket to keep food warm while it rehydrates.
IDEAL FOR
Rehydrating Camp Meals
Keeping Hands Warm During Mealtime
Reducing Weight
Pairing with the Vargo Titanium Long-Handle Spoon
REDUCES WEIGHT
Have your own cooking assistant at the end of every day!
The REpack Freezer Bag Cook System, like most Hyperlite Mountain Gear products, offers you an opportunity to simplify and lighten your load. Repackaging dehydrated food into freezer bags is a great way to decrease pack weight, and the amount of space food packets take up. It's also a chance to modify meals or make your own.

Place the repackaged food bag in the pouch. Add hot water to the meal and take care of other business around camp. REpack serves to keep food warm longer while it rehydrates.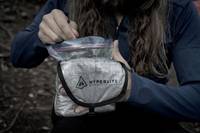 FEATURES
Construction:DCF11 fabric with 3M Thinsulate Insulation and a Semi-Rigid Bottom to Help Stand

Holds:Ziploc® Freezer Bag – Quart

Design:Features Hand Warmer

Compatible With:Most single serve dehydrated or freeze dried meals
Featured Product Reviews
A Quality Meal Insulator
Well thought out, durable, and an effective insulator. It also doubles as an insulated storage unit for phones, camera batteries, or anything else you want to keep out of the harsh cold.
Verified Buyer
Handy Cooking Pouch
Used the repack for 4 days while hiking in the Grand Canyon. Kept my freeze dried meals hot and allowed them to cook while I helped set up camp. Stored my spoon in the pouch when not in use. Handy!
Verified Buyer
REpack
Great idea from Hyperlite. Performs great, cuts down on weight, and allowed me to explore meal prep options and be creative. Quality is of Hyperlite standards. Product weight is as advertised.
Verified Buyer
SPECS & DIMENSIONS
MaterialsDCF11 + 3M Thinsulate Insulation
Weight0.1 lbs | 1.5 oz | 41g
Dimensions5" x 5" x 2" | 12.7cm x 12.7cm x 5cm
Made InMexico
Features
Construction:DCF11 fabric with 3M Thinsulate Insulation and a Semi-Rigid Bottom to Help Stand

Holds:Ziploc® Freezer Bag – Quart

Design:Features Hand Warmer

Compatible With:Most single serve dehydrated or freeze dried meals
Product Walkthrough Video | REpack
FREE SHIPPING ON ORDERS OVER $200